50 Healthy Zucchini Recipes

Taste of Home
7/2/2022
Growing up, I bonded with my dad over chorizo and eggs. My fresh approach combines them with grits and black beans for this chorizo breakfast bowl. Add a spoonful of pico de gallo for extra pop. —Jenn Tidwell, Fair Oaks, California
I have made this lasagna-like zucchini ricotta bake frequently over the years and shared the recipe with many. Recently, my daughter had some heart trouble, so I adapted the recipe to cut fat and calories. We think this version is just as delicious. -Eleanor Hauserman, Huntsville, Alabama
I've always had to be creative when getting my family to eat vegetables, so I decided to make stuffed zucchini using the pizza flavors that everyone loves. It worked! We like to include sausage for a main dish, but it could be a meatless side dish, too. —Donna Marie Ryan, Topsfield, Massachusetts
Wondering what to do with all of your garden-grown zucchini in the summer? Give it a sizzle and a little heat with this healthy side. It's also an easy recipe to double or triple for summer cookouts. —Alia Shuttleworth, Auburn, California
I came up with this colorful, tasty zucchini salad years ago for a recipe contest and was delighted when I won honorable mention! The recipe easily doubles and is the perfect dish to take to potlucks or family gatherings. —Paula Wharton, El Paso, Texas
I came up with this recipe after planting too many zucchini plants in our vegetable garden. My husband loved it the first time I served it and now we make it quite often. —Joy Turner, Amherst, Ohio
This popular Italian dish is flavorful and spicy. We decided to re-create one of our favorite jarred sauces and serve over zucchini pasta for a lighter, healthier meal that's naturally gluten-free. The results were amazing! —Courtney Stultz, Weir, Kansas
Zucchini, tomatoes and green peppers star in this make-ahead dish that offers a fresh take on traditional vegetable sides. Bubbly cheddar cheese adds a down-home feel. —Barbara Smith, Salem, Oregon
This simple and healthy summer zucchini pasta is a wonderful side or meatless entree, but you can add shredded chicken or grilled salmon for a heartier dish. —Beth Berlin, Oak Creek, Wisconsin
This grilled zucchini salad with Mediterranean salad dressing is the perfect side dish. I also like to add summer squash, when it's in season, for a variation, or crumbled goat cheese when I want creaminess. —Rashanda Cobbins, Milwaukee, Wisconsin
We love lasagna, but these zucchini roll-ups are a little healthier and a lot quicker! Using zucchini "pasta" also makes the dish gluten- and grain-free. To make zucchini strips, use a box grater or mandoline to get even slices. —Courtney Stultz, Weir, Kansas
With the abundance of zucchini my family has in the fall, this is the perfect dish to use some of what we have. Cheesy and rich, the warm, classic breakfast dish is sure to please! —Colleen Doucette, Truro, Nova Scotia
If your garden is overflowing with zucchini this time of year, make these incredible pancakes to use it up. We squeeze the zucchini well before using to remove excess moisture. —Terry Ann Dominguez, Silver City, New Mexico
The first time I substituted zucchini noodles for regular pasta, it was because I was trying to reduce carbohydrates and calories. Now I make them because we love the flavor and texture they bring to dishes. This dish is just as delicious if you substitute shrimp for the chicken. —Suzanne Banfield, Basking Ridge, New Jersey
My mom frequently cooked the giant zucchini that she grew in her garden. I adapted this recipe from one of her favorite weeknight meals. Though I love the taste of fresh-picked zucchini, the ones I've bought from the grocery store work great, too.—Susan Peterson, Blaine, Minnesota.
Pile on the veggies—the crisp, grilled crust can take it! This colorful, healthy pizza looks as fresh as it tastes. —Diane Halferty, Corpus Christi, Texas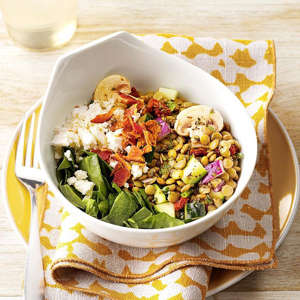 I made this one summer evening by putting together what I had on hand. My husband gave it his top rating. —Mary Ann Hazen, Rochester Hills, Michigan
I began serving a version of this dish as a side with grilled salmon. I added sausage and rice—or noodles—to make a complete meal-in-one. —Debby Abel, Flat Rock, North Carolina
Just a 10-minute prep dresses up my garden-fresh zucchini, adding mushrooms, onion, cheddar and a sprinkle of basil. —Jacquelyn Smith, Carmel, Maine
We plant zucchini every year and always seem to have more than we can use! This hearty zucchini lasagna is a delicious way to use our abundant crop. —Charlotte McDaniel, Williamsville, Illinois
Perk up gnocchi and vegetables with a flavorful pesto sauce. If you don't have pine nuts for the topping, skip or substitute any nut you like. —Taste of Home Test Kitchen
I'm always changing this salad up. Here I used tomato, zucchini and olives for a Greek-inspired salad. Try adding a few more favorite fresh veggies you know your family will love. —Elizabeth Lubin, Huntington Beach, California
My meatless version of Korean
bibimbap
is tasty, pretty and easy to tweak for different spice levels. —Devon Delaney, Westport, Connecticut
Our family is big on soup. This favorite is quick to make and very tasty, and it gives me plenty of time to have fun with my kids and grandkids while it slow-cooks. —Nancy Heishman, Las Vegas, Nevada
I always enjoy taking this healthy option to parties and potlucks, and people really seem to appreciate it. No oil is necessary for this salad; the lemon juice combines with the feta to lightly coat the bright, fresh ingredients. —Camille Parker, Chicago, Illinois
Coated in a tangy Dijon sauce, these tasty veggies and fluffy couscous make for a delightful side. —Juliana Dumitru, Fairview Park, Ohio
I love quick and bright meals like this one-skillet wonder. The way it tastes, you'd think it takes a lot more effort, but it goes from prep to dinner table in half an hour. The recipe works well with any light fish, or even shrimp. —Tammy Brownlow, Dallas, Texas
We serve this colorful garden feast when we find vegetables that are bursting with flavor. The dressing makes the fresh salad a welcome companion for most any entree. —Merwyn Garbini, Tuscon, Arizona
I love making this stuffed pepper recipe. It's one of the few ways I can get my husband to eat veggies. Make it meatless by replacing the beef with eggplant and adding more vegetables like mushrooms or squash. You can also replace the rice with barley, couscous or even orzo. —Jennifer Zimmerman, Avondale, Arizona
This soup is my go-to healthy lunch option. It's a great way to eat my vegetables, and it's so comforting during the cold winter months. —Dawn Donald, Herron, Michigan
We pull a bunch of ingredients from our garden when we make this baby kale salad with zucchini and sweet onion. The yogurt dressing layers on big lime flavor. —Suzanna Esther, State College, Pennsylvania
Hearty, colorful, easy and fast were the reviews we gave this good-for-you dish. Barley has a healthy amount of soluble fiber, which aids digestion. And it can help to lower cholesterol, too! You can easily substitute other fresh veggies you have on hand. —Jesse Klausmeier, Burbank, California
Layered desserts always grab my family's attention, but salads? Not so much. I wondered if I could get everyone on board by presenting a healthy salad in an eye-catching way. I'm happy to say that it worked. —Christine Hadden, Whitman, Massachusetts
A wonderful crust layered with herbed tomato sauce and toppings encourages my family of six to dig right in to this low-fat main course. —Denise Warner, Red Lodge, Montana
My favorite meals show a love of family and food. This zucchini dish with tomatoes is like a scaled-down ratatouille. —Adan Franco, Milwaukee, Wisconsin
Zucchini, cucumbers and carrots are peeled into "ribbons" for this citrusy salad. We like to serve it for parties and special occasions. —Nancy Heishman, Las Vegas, Nevada
When my husband and I wanted to live healthier, our first step was to eat more power foods, such as whole grains, fresh veggies and protein. Combined with our love for Italian food, this tasty lasagna is one of the nutritious results.—Jennifer Yaden, Richmond, Kentucky
With just-picked-from-the-garden-zucchini, your kids won't even know these burgers are meatless. —Kimberly Danek Pinkson, San Anselmo, California
I think this is the ultimate dish to make when sweet Jersey corn is in season. Combined with tomatoes, zucchini and basil, it makes for a spectacular side for brunch, lunch or dinner. —Erin Chilcoat, Central Islip, New York
My oldest daughter can't get enough of the tarragon sauce. She uses biscuits to soak up every scrumptious drop. My husband and I like it over mashed potatoes. —Tina Westover, La Mesa, California
For a light meal, we toss rotini pasta with cucumber, zucchini and sweet peppers. Make this cucumber pasta salad into a main dish by adding grilled chicken. —Christine Schenher, Exeter, California
My family loves this quick and easy recipe so much, we never have any leftovers. It's also great on the grill. —Jennifer Mitchell, Altoona, Pennsylvania
Tomato wedges give this salad a juicy bite. It's a great use of fresh herbs and veggies from your own garden or the farmers market. —Matthew Hass, Franklin, Wisconsin
I actually invented this chicken with vegetables dish at a campground, so you know it's easy. Using the same marinade for the meat and veggies keeps it simple so we can spend more time outside and less time making dinner. —Jayme Schertz, Clintonville, Wisconsin
I'm always looking for ways to serve my family healthy and delicious food, so after I started experimenting with my favorite veggies and ground beef. I came up with this favorite that my three kids actually request! This healthy take on sloppy joes reminds me of my own childhood. —Megan Niebuhr, Yakima Washington
I am always looking for recipes that will encourage children to eat vegetables and this one has been a huge success. You can also use other vegetables, such as mushrooms, eggplant, asparagus and broccoli. Just remember to roast your vegetables before making the quesadillas. —Kathy Carlan, Canton, Georgia
I was cooking for a health-conscious friend and wanted to serve a frittata. To brighten it up, I added leftover bruschetta topping and fresh mozzarella. Now that's breakfast. It's become a favorite among my friends and family, and a staple in my recipe book. —Melissa Rosenthal, Vista, California
These tasty (and healthy!) kabobs are a family favorite. You can change them up with turkey tenderloins and other veggies, like summery squash or sweet bell peppers. —Tammy Slade, Stansbury Park, Utah
I've always heard that it's important to eat a rainbow of colors to get all of the nutrients we need. Thanks to my garden-grown veggies, this dish certainly fits the bill. —Nicole Ehlert, Burlington, Wisconsin
The post 50 Healthy Zucchini Recipes appeared first on Taste of Home.
MORE FROM TASTE OF HOME

Taste of Home