60 Easy Fourth of July Recipes

Taste of Home
7/1/2022
My mom made these tender oven-baked country-style ribs for special suppers when we were growing up. A few common ingredients are all you need to make the zesty sauce that coats them. Everyone's eyes light up when I bring a plate of these ribs to the table, and company never suspects how easy they are to prepare. —Yvonne White, Williamson, New York
Our family celebrates the Fourth of July with a watermelon salad that resembles the flag. Here's an all-American centerpiece that's truly red, white and blue. —Jan Whitworth, Roebuck, South Carolina
For more festive appetizers, you'll love this 4th of July charcuterie board.
Long live childhood favorites! I created this recipe for the 125th anniversary of a small town in Minnesota. This easy recipe has a medium spice level so people of all ages love the flavors. —Barb Templin, Norwood, Minnesota
Here's a sandwich that does traditional burgers one better—with a surprise pocket of cheddar! My family really enjoys the melted cheese center. It's a fun recipe for a Fourth of July cookout. —Janet Wood, Windham, New Hampshire
What's a picnic without potato salad? This easy Fourth of July recipe will add delightful new flavor to yours. The spices make the difference. —Cam Cox, Hemet, California
During summer, I like to use the fresh ingredients I receive weekly from my local food share, and that's how I created this peach Caprese salad. I use large balls of mozzarella torn into pieces, but you could use smaller mozzarella pearls. —Mounir Echariti, Mendham, New Jersey
This lemon ice cream cake is a cool treat my family loves anytime, but we find it especially refreshing on a hot summer day like the Fourth of July. The cream of coconut and lemon juice make a delicious combo, and the streusel adds a nice crunch. —Janet Gill, Canton, Ohio
This ginger ale float recipe came from my husband's aunt, who was born in the early 1900s. It's a delightful drink for hot Texas summers. —Joan Hallford, North Richland Hills, Texas
I got this easy Fourth of July recipe from my aunt and made a couple of changes to suit our tastes. With ground beef and bacon mixed in, these satisfying beans are a big hit at backyard barbecues and church picnics. I'm always asked to bring my special beans. —Julie Currington, Gahanna, Ohio
Prepare corn dogs at home just like you'd get at the fair. Both kids and grown-ups will love this hearty corn dog batter. —Ruby Williams, Bogalusa, Louisiana
In 1904, the first banana split recipe was made in my town by David Strickler, an apprentice pharmacist at a local drug store. My family still uses his original formula when we make banana splits in our restaurants. —Melissa Blystone, Latrobe, Pennsylvania
Sprinkling cucumber slices with salt and letting them stand in a colander draws out excess water so they stay crisp when set on a barbecue buffet. Try this cucumber dill salad alongside any grilled entree. —Taste of Home Test Kitchen
I created this easy recipe with a few tips from my mom and grandma. It can be made in minutes to suit any occasion. I've used it as a breakfast fruit dish, a dinner dessert and a light snack. It's also great on the Fourth of July. —Martha Betten, North Manchester, Indiana
An impromptu picnic inspired this barbecue chicken salad sandwich. An easy Fourth of July recipe, these dressed-up sandwiches have become a mainstay at our house. —Linda Orme, Battleground, Washington
My husband and I love Caprese salad, but not the high prices we pay for it in restaurants. Here, we created our own version which tastes incredibly close, if not better, than any restaurant version we've tried. —Melissa Pearson, Sandy, Utah
We use this onion rings recipe as a burger topper to add an extra element to already fantastic burgers. These onion rings are also a great snack for the Fourth of July. —Taste of Home Test Kitchen, Milwaukee, Wisconsin
Cooked on a covered grill, this chicken stays so tender and juicy. It's so easy to make for summer events like the Fourth of July. Everyone loves the zesty, slightly sweet homemade barbecue sauce. —Priscilla Weaver, Hagerstown, Maryland
This Sloppy Joe Tater Tot Casserole is an easy Fourth of July recipe. You can also stir in some spicy brown mustard if the adults want more zing. —Laura Wilhelm, West Hollywood, California
When barbecuing for friends at home, I also use the grill to serve up hot appetizers. These crowd-pleasing stuffed peppers have a bit of bite. They were concocted by my son. —Catherine Hollie, Cleveland, Texas
My daughter Sara loves spicy Buffalo chicken and deviled eggs, so I combined the two. Make and chill a day ahead so the flavors mingle. —Robin Spires, Tampa, Florida
When our children were small and I was super busy, I would make this easy recipe. Kids love it.—JoAnn Gunio, Franklin, North Carolina
This recipe was originally for lamb, but I adapted it to pork and adjusted the spices. After tasting these easy kabobs, my husband became an instant fan of this recipe. It's always requested when the grill comes out for the season and is a showstopper on the Fourth of July. —Bobbie Jo Miller, Fallon, Nevada
I created this dish when I was trying to duplicate a very lemony Caesar salad. I think my version is not only delicious but more healthful, too! —Kathy Armstrong, Post Falls, Idaho
One of the best things about summer is fresh sweet corn, and this easy Fourth of July recipe is a definite standout. We love its creamy dressing, crunchy panko coating and spicy jalapeno kick. If you're really feeling wild, sprinkle these with a bit of cooked and crumbled bacon! —Crystal Schlueter, Northglenn, Colorado
Video: Fourth of July Lunch or Snack: Tostadas (USA TODAY)
My mother used to make this salad on holidays like the Fourth of July. With all the cabbage that is grown here in the Northwest, this easy recipe is a real natural for us! —Deb Darr, Falls City, Oregon
Here's a tasty take on the popular beer-can chicken. Once the bird is on the grill, the work's basically done. And cleanup is a cinch—a must for a guy like me. —Steve Bath, Lincoln, Nebraska
A friend gave me this easy Fourth of July recipe, and whenever I serve it, people ask me for the recipe, too! The cream cheese pinwheels can be made ahead of time and sliced just before serving, leaving you time for other last-minute party preparations. —Pat Waymire, Yellow Springs, Ohio
This Russian potato salad recipe comes from my grandmother, who had written it down in Russian before she translated it for me when I was a teen. We made this for any event where family and friends gathered together. —Gala McGaughey, Berryville, Virginia
This brisket cuts like butter—no joke! With just a few ingredients and steps, this easy Fourth of July recipe is nearly impossible to mess up. The thin, fall-apart-tender slices are delicious on their own but also make everything from tacos to Frito pies taste better. —Darla Andrews, Boerne, Texas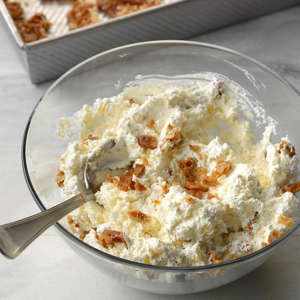 I often bring this salad to potlucks, and everyone goes crazy for the sweet and crunchy combination. Be sure to add the pretzel mixture right before serving to keep it crispy. —Beth Olby, Ashland, Wisconsin
"Foolproof" is a perfect way to describe my barbecue pork recipe. With just four ingredients and a slow cooker, you can make these fabulous sandwiches with very little effort. —Sarah Johnson, Chicago, Illinois
This is easy and delicious! These shrimp are great with steak, but for a special occasion, brush the sauce on lobster tails and grill. —Sheryl Shenberger, Albuquerque, New Mexico
A terrific alternative to pasta salad, this easy Fourth of July recipe adds refreshing herb flavor to corn, barley, and red and green peppers. Bring it to your next get-together and see how fast it disappears! —Mary Ann Kieffer, Lawrence, Kansas
For an easy Fourth of July recipe, cover and refrigerate this salad a few hours before guests arrive so you don't have to bother with last-minute assembly. Turn it into a light lunch by adding sliced rotisserie chicken, salmon or tuna. —Melissa Wharton, Cincinnati, Ohio
This creamy pie gets dressed up with berries to make a showstopping display as an easy recipe for a Fourth of July party or summer get-together. It's as pretty as it is tasty! —Kimberly McFarland, Broken Arrow, Oklahoma
My husband and I love to grill, so hamburgers are often on the menu. Topped with pineapple slices, these ground turkey burgers are moist and juicy and make an easy Fourth of July recipe. —Babette Watterson, Atglen, Pennsylvania
Don't be fooled by the green color—this vegan potato salad is absolutely delicious! It's perfect for potlucks and for those with dietary restrictions. —Laura Wilhelm, West Hollywood, California
How to cook flank steak? Easy! Marinate it and grill or broil it! This marinated steak is so moist that it will become one of your favorite ways to serve beef. —Heather Ahrens, Columbus, Ohio
I came up with these everything-in-one seafood packets for a family reunion, since the recipe can be increased to feed a bunch. The foil steams up inside, so open carefully. —Allison Brooks, Fort Collins, Colorado
For as long as I can remember, Mom made a salad of tomatoes and cucumbers. Now I make it whenever beautiful tomatoes are in reach. —Shannon Arthur, Upper Arlington, Ohio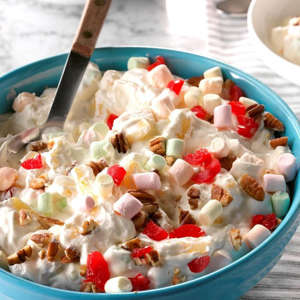 Guests of all ages will gravitate to this traditional "fluff" salad, chock-full of pineapple, marshmallows and cherry bits. —Janice Hensley, Owingsville, Kentucky
This easy recipe is my favorite out of all my grilled pork chop recipes. I start preparing this entree the night before I plan to grill it. It's a great option for a Fourth of July gathering. —Erica Svejda, Janesville, Wisconsin
One night I goofed, accidentally using the balsamic butter I save for grilling chicken on my pound cake. What a delicious mistake that my entire family loved! For a patriotic look, add a drizzle of blueberry syrup. —Tammy Hathaway, Freeman Twp, Maine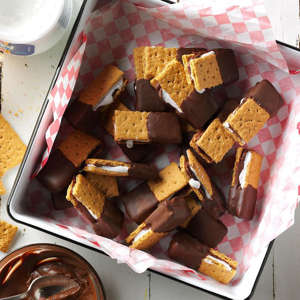 Want to sink your teeth into s'mores all year long? Here's the answer! Just combine marshmallow creme, chocolate and graham crackers for an awesome bite. —Stephanie Tewell, Elizabeth, Illinois
A sweet out-of-the-ordinary dressing makes this macaroni salad great for special events like the Fourth of July. My aunt gave me the recipe and it has become one of my favorites. I occasionally leave out the green pepper if I know that people don't like it, and it still tastes great. —Idalee Scholz, Cocoa Beach, Florida
These easy cookies simply melt in your mouth! I've passed this recipe around to many friends. After I gave it to my sister, she entered the cookies in a local fair and won best of show. —Sylvia Ford, Kennett, Missouri
I've loved sloppy joes since I can remember. In an attempt to give them a makeover, I thought of this idea, which was a big hit with my family, friends and co-workers! If you can't find a mango, chopped pineapple should work just as well. —Shea Goldstein, Royal Palm Beach, Florida
Need to bring a dish to pass on the Fourth of July? This easy recipe will disappear quickly at any potluck. —Aldene Belch, Flint, Michigan
This idea came to me while sitting on the back porch. The combination of meats and ingredients in the sauce produce slow-cooker meatballs unlike any I've ever had. —Justin Boudreaux, Walker, Louisiana
The combination of peppery arugula, sweet strawberries and robust feta cheese may sound unusual, but one bite wins over taste buds. —Carala Horne, Meridian, Mississippi
The nutrition department at my local hospital inspired me to create this easy Fourth of July recipe. I tweaked their recipe slightly to create this drink full of sweet-tart flavor. —Dawn Lowenstein, Huntingdon Valley, Pennsylvania
If you've wanted to learn how to make crispy fried chicken, this is the recipe for you. Always a picnic favorite, this deep fried chicken recipe is delicious either hot or cold. Kids call it my Kentucky Fried Chicken! —Jeanne Schnitzler, Lima, Montana
I'm always looking for fun ways to use the fresh veggies that come in my Community Supported Agriculture box, and this salad is one of my favorite creations. I like to improvise with whatever I have on hand, feel free to do the same here! —Shayna Marmar, Philadelphia, Pennsylvania
I eat this tasty treat just as much as (if not more than) the kids! Have fun with it by adding other goodies into the mix, like nuts, cereal, pretzels and more. —Jeff King, Duluth, Minnesota
This easy recipe came about when I was a child living in Washington. Fresh peaches were everywhere, so my mom and I came up with this tasty peach shake. This recipe says
summer
to my family and me. —Teresa Jarnot, Monroe, Washington
This was one of my mother's recipes and I think of her whenever I make it. It's a nice change from a regular cucumber salad. —Jean Moore, Pliny, West Virginia
This is the best Fourth of July recipe! Whenever I bring Buffalo dip to a tailgate or potluck, everyone asks for the recipe. —Peggy Foster, Florence, Kentucky
I needed a change from the standard guacamole recipe, so I added mango for more sweetness. It really complements the heat from the chile pepper, and it looks beautiful, too! —Adam Landau, Englewood Cliffs, New Jersey
These fruity, flaky tartlets filled with raspberries and topped with lemon-tinged cream cheese are a sweet ending to any weeknight meal. They are elegant yet come together quickly and easily. —Elizabeth Dehart, West Jordan, Utah
On hot days, this sweet combo of watermelon, pineapple and fresh cilantro has everything you want. The flavors blend beautifully, it's pretty, and it comes together in no time. —Betsy Hanson, Tiverton, Rhode Island
The post 60 Easy Fourth of July Recipes appeared first on Taste of Home.
MORE FROM TASTE OF HOME

Taste of Home