Air-Fryer Bacon-Wrapped Filet Mignon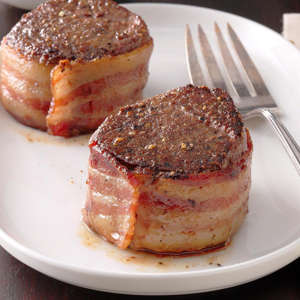 I got the idea for bacon-wrapped filet mignon when I saw some on sale in the grocery store. The rest was inspired by my husband, because he once made a Scotch and ginger ale sauce. I originally made this
in the oven
but it works equally well in the air fryer! —Mary Kay LaBrie, Clermont, Florida
Total Time
Prep/Total Time: 30 min.
Ingredients
2 bacon strips
2 beef tenderloin steaks (5 ounces each)
1/4 teaspoon salt
1/4 teaspoon coarsely ground pepper
2 cups sliced baby portobello mushrooms
1/4 teaspoon dried thyme
2 tablespoons butter, divided
1-1/2 teaspoons olive oil
1/4 cup Scotch whiskey
1/2 cup diet ginger ale
1 tablespoon brown sugar
1-1/2 teaspoons reduced-sodium soy sauce
1/4 teaspoon rubbed sage
View Recipe
Directions
Place bacon in a single layer in air-fryer basket. Cook at 350° until partially cooked but not crisp, 3-4 minutes. Remove to paper towels to drain.

Preheat air fryer to 375°. Sprinkle steaks with salt and pepper; wrap a strip of bacon around the side of each steak and secure with toothpicks. Place steaks in a single layer on greased tray in air fryer basket. Cook until meat reaches desired doneness (for medium-rare, a thermometer should read 135°; medium, 140°; medium-well, 145°), 7-10 minutes, turning halfway through.

Meanwhile, in a large skillet, saute mushrooms and thyme in 1 tablespoon butter and oil until tender; remove from heat. Add whiskey, stirring to loosen browned bits from pan. Stir in ginger ale, brown sugar, soy sauce and sage.

Bring to a boil. Reduce heat; simmer, uncovered, until reduced by half, 3-5 minutes. Stir in remaining tablespoon butter. Serve with steaks.
Air-Fryer Bacon-Wrapped Filet Mignon Tips
What other spices can you put on air-fryer bacon-wrapped filet mignon?
For a variation on this recipe, add more spices and herbs such as garlic powder, rosemary, basil or, for a spicy kick, cayenne pepper to your air-fryer filet mignon. Feel free to customize based on your personal tastes—for more inspiration, check out our list of
essential spices.
What can you serve with air-fryer bacon-wrapped filet mignon?
We like to eat this bacon-wrapped filet mignon with a side of buttery
mashed potatoes
, a
crunchy tossed salad
and a
crusty French loaf
. If you're serving these steaks with wine, try a bottle of pinot noir for the perfect pairing.
How else can you cook bacon-wrapped filet mignon?
Instead of using your air fryer, you can cook
bacon-wrapped filets
in the oven. Start by frying the bacon in a small skillet until partially cooked. Then, preheat the oven to 375°F and prepare the steak, wrapping each one in a piece of bacon. In an ovenproof skillet, cook each steak in oil over medium-high heat, 2 minutes on each side. Transfer the skillet to the oven and bake the steaks until the meat reaches desired doneness, about 8-12 minutes.
—Sammi DiVito, Taste of Home Assistant Editor
Air Fryer Cook Times
In our testing, we find cook times vary dramatically between brands of air fryers. As a result, we give wider than normal ranges on suggested cook times. Begin checking at the first time listed and adjust as needed.
Nutrition Facts
1 filet with 1/3 cup mushroom mixture: 581 calories, 37 g fat (15 g saturated fat), 108 mg cholesterol, 729 mg sodium, 10 g carbohydrate (8 g sugars, 1 g fiber), 35 g protein.