Air-Fryer Roasted Salmon with Sauteed Balsamic Spinach

Taste of Home
8/14/2022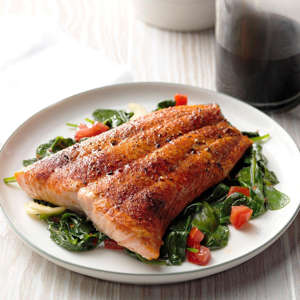 This air-fryer salmon recipe is my favorite. The dish is healthy, affordable, fast and delicious. —Susan Hall, Sparks, Maryland
Total Time
Prep/Total Time: 30 min.
Ingredients
3 teaspoons olive oil, divided
4 salmon fillets (6 ounces each)
1-1/2 teaspoons reduced-sodium seafood seasoning
1/4 teaspoon pepper
1 garlic clove, sliced
Dash crushed red pepper flakes
10 cups fresh baby spinach (about 10 ounces)
6 small tomatoes, seeded and cut into 1/2-in. pieces
1/2 cup balsamic vinegar
View Recipe
Directions
Preheat air fryer to 450°. Rub 1 teaspoon oil over both sides of salmon; sprinkle with seafood seasoning and pepper. In batches if necessary, place salmon on greased tray in air-fryer basket. Cook until fish just begins to flake easily with a fork, 10-12 minutes.

Meanwhile, place remaining oil, garlic and pepper flakes in a 6-qt. stockpot; heat over medium-low heat until garlic is softened, 3-4 minutes. Increase heat to medium-high. Add spinach; cook and stir until wilted, 3-4 minutes. Stir in tomatoes; heat through. Divide among 4 serving dishes.

In a small saucepan, bring vinegar to a boil. Cook until vinegar is reduced by half, 2-3 minutes. Immediately remove from heat.

To serve, place salmon over spinach mixture. Drizzle with balsamic glaze.
Nutrition Facts
1 serving: 348 calories, 19g fat (4g saturated fat), 85mg cholesterol, 286mg sodium, 12g carbohydrate (9g sugars, 2g fiber), 31g protein.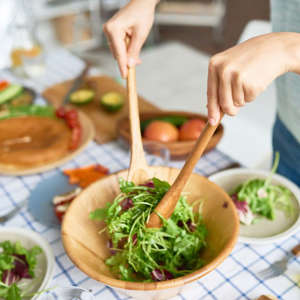 MORE FROM TASTE OF HOME

Taste of Home