Cheesy Garlic Pull-Apart Bread Is The Ultimate Tear and Share

Delish
9/20/2021
All we want in life is bread and cheese and this is the perfect way to get both. It is the ultimate tear and share appetizer that is amazing for any party or you know... just when you want your dose of garlic bread. You can serve it all by itself but you can also prepare a dipping sauce. Marinara is a logical, delicious choice but you could also triple down on the luscious, garlicky flavor and go for our famous cowboy butter.
Tried this recipe? Let us know how it came out in the comments below!
Yields: 1
Process Time: 20 mins
Total Time: 30 mins
Ingredients
1

large baguette

1

stick butter, melted

6

cloves garlic, minced

2 tbsp.

Freshly Chopped Parsley

kosher salt

Freshly ground black pepper

1 c.

shredded mozzarella

1 c.

shredded fontina
Directions
Preheat oven to 350 degrees F. Using a serrated knife, crosshatch baguette, making slices every inch in both directions and making sure to not slice all the way through the bottom of baguette.
In a small bowl, stir together melted butter, garlic, and parsley. Season with salt and pepper.
Brush baguette with melted butter mixture, making sure to get inside crosshatches.
Stuff each crosshatch with mozzarella and fontina and wrap bread completely in foil.
Bake until cheese is melted and bread is warm and toasty, 20 minutes.
Let cool 5 minutes, then serve.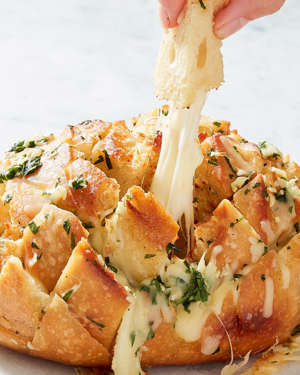 More from Delish

Delish