Comforting Winter Soups! Crockpot and Dutch Oven Recipes

Cook Eat Go
2/4/2023
These Perfect Winter Soup Recipes are perfect for the changing weather and this time of year. What beats a good bowl of soup when it is cold and rainy gray Washington weather outside? Doesn't matter if it's the crockpot, dutch oven, stove top, or instant pot a good soup hits the spot in the cold months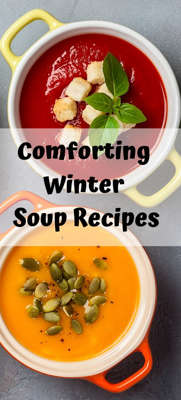 I am always on the hunt for new Winter soup recipes that my family will love!! While Pinterest is amazing, I love to find recipes from my fellow bloggers that they love and tried!! The first soup I got up the nerves to make was White Chicken Chili loved it!!! Since then, I have been making more!
TOOLS TO HELP MAKE SOUPS, STEWS, AND CHILIS
WINTER SOUP RECIPES TO TRY OUT:
CROCKPOT SOUPS
Crock Pot Ham and Bean Soup– Use leftover holiday ham or precooked ham to make this tasty soup! This is the perfect comfort food recipe for the holiday weekends. 
Crockpot Sausage Potato Soup – This soup hits all comfort levels and is easy to make! The leftovers are almost better than the first night!
Slow Cooker Vegetable and Ground Beef Soup–Use ground beef to make this comforting frugal soup in the crockpot,
Slow Cooker Chicken Fajita Soup– An easy twist on Taco Tuesday that is Keto and Weight Watchers friendly! Spice it up or load it with more toppings!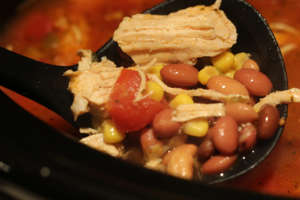 WW Chicken Taco Soup– This soup is so easy to make and throw together!! Use precooked chicken or allow the chicken to cook in the soup!
Crockpot Clam Chowder– Easy to make clam chowder using canned clams!! Goes perfectly with a bread bowl for a tasty dinner. 
Slow Cooker Chicken Pot Pie Soup– Use your crockpot to whip up all the comforts of homemade chicken pot pie into a soup, and serve with pie crusts to dip in your soup.
Crawfish Chowder– This southern comfort dish is full of everything comforting! Sautee the crawfish in butter and then allow it to cook all day in the crockpot!
Crockpot Lasagna Soup– Use Lasagna noodles with all your favorite ingredients to make this cheesy, comforting pasta soup.
Slow Cooker Creamy Cheese Broccoli Potato Soup– Use frozen hashbrowns with broccoli and ham to make this fantastic comfort food!
CROCKPOT CHILI RECIPES
Crock Pot Beef Chili– Easy to make, and add bacon for extra flavor!! Make a large batch to freeze the leftovers or lunch the next day!
Slow Cooker Smoked Turkey Chili– Use leftover holiday turkey to make a fantastic chili! The seasoning from the turkey being cooked adds flavor to the chili!
Slow Cooker White Chicken Chili– This is a great twist on chili that ends up being low calorie and low fat. Allow to simmer all day and serve with chips, sour cream, and cheese!
Prime Rib Chili– Use leftover smoked prime rib to make the ultimate comfort food chili! The flavor from the prime rib roast is heavenly with chili ingredients.
Crockpot Beef Brisket Chili – A fantastic way to use leftover beef brisket. The seasoning from the brisket adds to the chili, but the brisket also tenderizes as it cooks in the crockpot.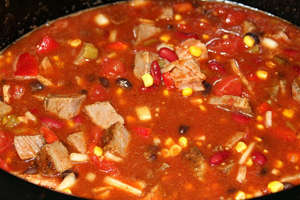 STOVE TOP SOUPS
Homemade Beef Ramen-Making ramen at home is easy, and the broth is perfect for warming up on cold days. Use thin steaks to make the beef in this ramen.
Smoked Turkey Noodle Soup Recipe– Use a large stock pot to boil down a smoked turkey carcass to make the broth for this amazing turkey leftover soup recipe.
Easy Hamburger Soup Recipe– This is a kid-friendly soup made of the kid's favorite ground beef, pasta, and spaghetti sauce!
Smoked Pork Chili–Boil down a pork should roast with the bone to make this tasty pork chili with 15 bean soup in it.
Chicken Chow Mein Soup Recipe– Take frozen chinese entrees to the next level by turning them into soup with some extra vegetables.
Ham and Split Pea Soup-Boil down a ham bone to make this amazing holiday dinner leftover soup on the stove.
Easy Homemade Chicken Noodle Soup-Make on the stovetop to make the whole house smell incredible; this is the perfect cold weather soup.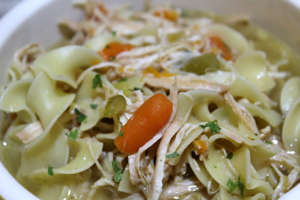 DUTCH OVEN CHILIS AND SOUPS
Dutch Oven Beef Chili– Use a dutch oven to slowly cook beef chili either on the stove or in the oven.
Smoked Dutch Oven Chicken Noodle Soup– Use a Cast Iron dutch oven to smoke the broth and ingredients of chicken noodle soup to add to the flavor of soup.
Smoked White Chicken Chili– Use your smoker to smoke chili in a dutch oven. Smoking low and slow cooks the chili full of smoke flavor.
Dutch Oven Beef Stew-Use a dutch oven to slow cook beef stew, the meat and potatoes will turn out so tender cooking this way.
Smoked Brisket Dutch Oven Chili– Use leftover smoked brisket and smoke into a chili using a dutch oven. The brisket is so tender when done with the slow smoke in chili.
Campfire Dutch Oven Beef Stew-Assemble this for camping trips or cooking in the oven, cast iron is versaitle for cooking in different elements.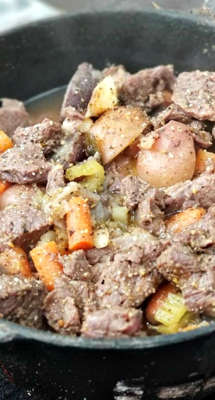 CROCKPOT STEW RECIPES
Crockpot Hamburger Stew– A kid favorite stew made with ground beef instead of beef pieces.
Slow Cooker Brisket Stew-Use leftover brisket to make a stew that has flavored smoked meat and perfect to serve in a bread bowl.
WHAT IS YOUR GO-TO WINTER SOUP RECIPE YOU MAKE AT HOME??
HOW TO STORE LEFTOVER SOUPS
Store in the fridge for up 5 days in the fridge in an air tight container.
Freeze in the feezer in an airtight container for up to three months.
HOW TO REHEAT LEFTOVER SOUPS
Reheat in the micorwave until a food safe temperature or heat on the stove in a small sauce pan.
BREADS TO SERVE WITH SOUPS, CHILIS, AND STEW
SIDE DISHES TO SERVE WITH SOUPS, CHILIS, AND STEW
CROCKPOT RECIPES TO CHECK OUT
Crockpots are versatile and perfect for making meals without much work or effort. I use mine constantly! Below are some of my favorite collections of recipes I've made in my kitchen.
Be sure to follow Cook Eat Go on MSN, Facebook, Instagram, and Pinterest, for all of our recipe posts. You can also grab her free e-book and get her emails -> here.
Cook Eat Go

Cook Eat Go