Gluten-Free Brownie Bars

Taste of Home
10/26/2020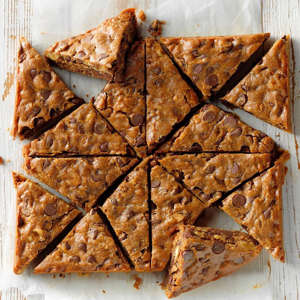 I can't eat dairy or gluten, but these gluten-free brownie bars are a satisfying substitute. The brownies will still seem soft when you pull them from the oven. They are done when the edges look very lightly browned. —Linda Speranza, Buckeye, Arizona
Total Time

Prep: 20 min. Bake: 30 min. + cooling
Ingredients
1 cup almond butter
1/2 cup agave nectar
1 large egg, room temperature
1/2 teaspoon salt
1/2 teaspoon baking powder
1 package (10 ounces) dairy-free semisweet chocolate chips
1 cup chopped walnuts, lightly toasted
Text Ingredients
View Recipe
Directions
Preheat oven to 325°. Line a 8-in. square baking pan with parchment, letting ends extend up sides; set aside. In a large bowl, beat the first 5 ingredients until blended. Stir in chocolate chips and walnuts. Spread into prepared pan.

Bake until edges begin to brown and a toothpick inserted in center comes out with moist crumbs (do not overbake), 30-35 minutes. Cool completely in pan on a wire rack, at least 2 hours. Lifting with parchment, remove brownies from pan. Cut into bars. Store in an airtight container.
Editor's Note
This recipe was tested with Enjoy Life semisweet chocolate chips.
Nutrition Facts
1 bar: 266 calories, 19g fat (5g saturated fat), 12mg cholesterol, 131mg sodium, 23g carbohydrate (17g sugars, 3g fiber), 6g protein.
MORE FROM TASTE OF HOME

Taste of Home