Homemade Gelt

Taste of Home
12/3/2020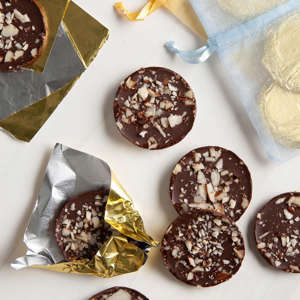 Giving chocolate coins to children, and sometimes teachers, for Hanukkah is a long-standing tradition. This homemade gelt recipe uses a miniature muffin pan to mold the coins into shape. The sliced almonds add a nice crunch. —Taste of Home Test Kitchen
Total Time

Prep: 10 min. + chilling
Ingredients
2 teaspoons canola oil
3 (3-1/2 ounces each) dark chocolate candy bars, melted
1/4 cup sliced almonds, finely chopped
Text Ingredients
View Recipe
Directions
Brush miniature muffin cups lightly with oil. Pour about 1 teaspoons melted chocolate into each cup and bang on counter. Sprinkle with almonds. Refrigerate until set. Remove from muffin cups and blot off any excess oil, if needed.
Homemade Gelt Tips
What is gelt?
Gelt are coin-shaped chocolates shared with children during Hanukkah (among other
Jewish desserts
!). They're also used as "chips" in a game of dreidel. They're not always homemade, but they're an easy
Hanukkah recipe
to tackle yourself.
How do I decorate homemade gelt?
To decorate homemade gelt, top with crushed peppermint candy, candied ginger, almonds or sprinkles. Once set, wrap them in gold foil, being sure to pull the foil tightly all the way around the chocolate. To make imprints in your wrappers, set your chocolates in a mold. (Here are more
candy-making tools that'll sweeten up your kitchen
!)
What's the best chocolate to use for homemade gelt
This is one of the most straightforward
homemade candies
there is, so use just about any chocolate. Melting chocolate has the highest amount of cocoa butter and the least sugar, while milk chocolate is on the opposite end of the cocoa spectrum. High-quality chocolate bars with 60% to 70% solids could be ideal here, and semi-sweet morsels would work great, too.
Nutrition Facts
1 piece: 42 calories, 3g fat (2g saturated fat), 1mg cholesterol, 0 sodium, 5g carbohydrate (4g sugars, 1g fiber), 1g protein.
MORE FROM TASTE OF HOME

Taste of Home