Penne All'Arrabiata

Taste of Home
5/14/2022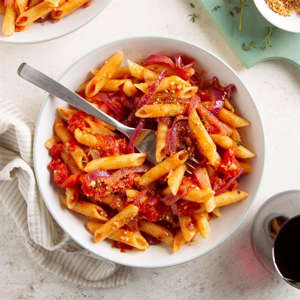 Pasta all'arrabiata, a classic Italian recipe, is my comfort food be it summer or winter. My kids and I love sprinkling "pangrattato" (fried bread crumbs) on top of the arrabiata sauce. —Smitha Haridasan, Ganapathy, AE
Total Time
Prep: 15 min. Cook: 25 min.
Ingredients
3 tablespoons olive oil, divided
1 medium red onion, thinly sliced
2 to 3 dried hot chiles, finely chopped
4 garlic cloves, minced
1 can whole plum tomatoes, undrained
1 package (16 ounces) uncooked penne pasta
1 teaspoon red wine vinegar
1/2 teaspoon salt
1/2 teaspoon pepper
3 tablespoons dry bread crumbs
Optional: fresh minced thyme and crumbled goat cheese
View Recipe
Directions
In a large skillet, heat 2 tablespoons olive oil over low heat. Add onion, chilies and garlic; cook and stir until fragrant, 2-3 minutes. Add the tomatoes, gently breaking up with the back of wooden spoon; cook until tender over medium heat, about 10 minutes.

Meanwhile in a large saucepan, cook penne according to package directions for al dente. Drain pasta, reserving 1/2 cup pasta water.

Add vinegar to thickened tomato sauce; season with salt and pepper. To make breadcrumb topping, heat remaining olive oil over medium heat in second skillet. Add breadcrumbs and fresh thyme, if desired; fry until crispy, 2-3 minutes. Remove from heat.

Add drained pasta and reserved pasta water to tomato sauce; toss to coat. Top with fried breadcrumbs. If desired, drizzle with additional olive oil and garnish with fresh herbs and cheese.
Penne All'Arrabiata Tips
How do you thicken arrabiata sauce?
This rich sauce is thickened with both Romano and Parmesan cheese. For a thicker result, reduce your wine sauce further to let more liquid cook off, or simply add more cheese!
Can you use red pepper flakes instead of chiles in arrabiata sauce?
Yes! You can use a dash or two of red pepper flakes either in addition to or in place of the dried hot chiles. Add as much spice as you'd like! For more delicious ideas, check out our best
homemade pasta sauce recipes
.
How do you store arrabiata sauce?
Store the sauce in an airtight container in the fridge, separate from the pasta and cheese, for up to five days. (If you haven't mixed in the cheese,
you can freeze it, too. Store for up to three months.) Once you've added the cheese and pasta, store leftovers in the fridge for up to three days.
Research contributed by Elizabeth Harris
Nutrition Facts
1-1/2 cups: 355 calories, 9g fat (1g saturated fat), 0 cholesterol, 227mg sodium, 60g carbohydrate (4g sugars, 3g fiber), 11g protein.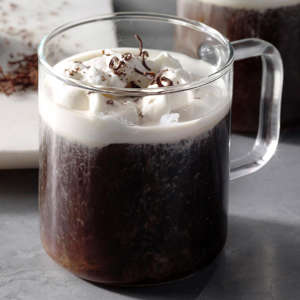 MORE FROM TASTE OF HOME

Taste of Home