The Genius Secret Ingredient Your Sautéed Mushrooms Are Missing

Food52
4/19/2018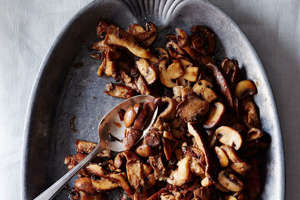 © Provided by Food52

Dill pickle brine's chief function is to preserve cucumbers into infinity. Its reason for being is utility; its food class: byproduct. When it escapes the jar, it's most often served on the side of a cheap shot of whiskey.
So I don't blame you if you tend to eat all the pickles and then throw the juice away—at least, not until right now I didn't.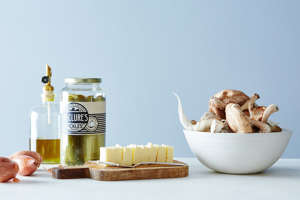 Maybe nobody told you that tossing pickle brine is just like tipping a perfectly good bottle of vinegar or fish sauce or Worcestershire down the drain. Maybe you never heard that you could cook with brine, not just use it as a bracing, salty slap to chase your sorrows. Or maybe you assumed that brine would always take over, setting its vinegar and salt and spice on top of everything else. You might even have slipped some pickle juice into potato salad or Bloody Marys, where blandness signals a crushing defeat.
But as I learned from Stuart Brioza, chef-owner of State Bird Provisions in San Francisco, brine could be doing so much more. He splashes dill pickle brine into buttery sautéed mushrooms—refined, seasonal, expensive mushrooms. And it makes them even better.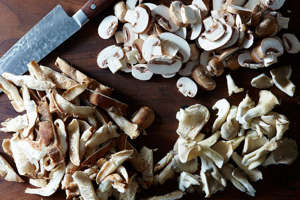 Unless you're approaching the proportions used for pickles (i.e. literally swimming in brine), it's just a contained burst of acid, salt, and mulled seasonings that together work background magic. Used in tablespoons, not pints, it doesn't announce itself, but somehow makes the butter and mushrooms speak louder and more clearly.
"I love pickles. I love mushrooms," Brioza wrote, in explaining how he came up with the idea. "We like to ferment turnips at the restaurant, and it's a great way to use that brine (though dill pickle brine would work just as well)." Imagine what pickle brine could do for your other fine spring vegetable hauls—your ramps, your delicate greens, your radishes.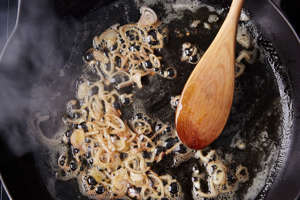 © Provided by Food52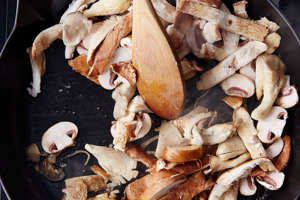 © Provided by Food52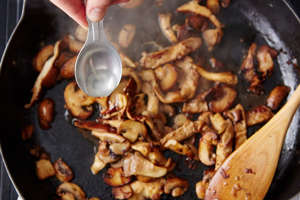 © Provided by Food52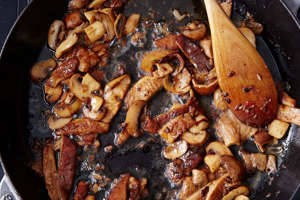 © Provided by Food52
As for the mushrooms, they're pretty ethereal all on their own, but they'd sit nicely with steak or roast chicken, or in a bowl of lentils or grains. Or, per Brioza, "One great way to eat them would be as 'bread and butter pickle mushrooms': Serve them warm on crusty buttered bread."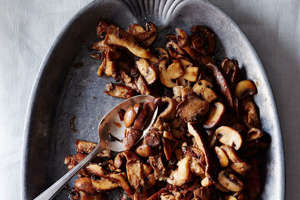 Stuart Brioza's Mushrooms in Pickle-Brine Butter
Adapted slightly from Food & Wine and State Bird Provisions
Serves 6 to 8, but scales down well
1 stick plus 1 tablespoon unsalted butter
6 tablespoons extra-virgin olive oil
3 medium shallots, thinly sliced (1 1/2 cups)
3 pounds mixed mushrooms, such as cremini, oyster, and stemmed shiitake, thickly sliced or quartered
3/4 cup brine, strained from a jar of dill pickles
Kosher salt
Pepper
Photos by Mark Weinberg
Related gallery: 20 Ways to Give New Life to Leftover Rice