White Cheddar Shells

Taste of Home
9/14/2022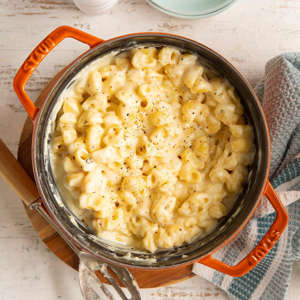 My kids and I love mac and cheese. We always get it in the bread bowls when we're at a restaurant, but with three cheeses, these white cheddar shells are filling on their own. —Steven Schend, Grand Rapids, Michigan
Total Time
Prep/Total Time: 25 min.
Ingredients
3-1/2 cups uncooked pipetti pasta, such as Barilla Pippetti, or medium pasta shells
1/4 cup butter, cubed
1/4 cup all-purpose flour
2-1/2 cups 2% milk
1/4 teaspoon pepper
2 cups shredded white cheddar cheese
4 slices white American cheese, chopped
1/4 cup grated Parmesan cheese
Bread bowls, optional
View Recipe
Directions
Cook pasta according to package directions; drain and set aside. In a large saucepan, melt butter over low heat; whisk in flour until smooth. Whisk in the milk and pepper. Bring to a boil; cook and stir for 2 minutes or until thickened. Stir in cheeses until melted; stir in pasta. Serve in bread bowls if desired.
White Cheddar Shells Tips
Is it better to shred your own white cheddar cheese when making white cheddar shells?
When it comes to getting the smoothest cheese sauce possible, it's best to
shred the cheese
yourself. If you use store-bought shredded cheese, you may find your sauce has a little grittiness to it and the cheese may not melt completely. That's because some
shredded cheeses contain cellulose
, which helps cheese from clumping together in the bag. It's going to be worth the extra effort to shred the cheese yourself. You can make it a little easier by using a food processor with the grater attachment.
What other kinds of cheeses can you add to white cheddar shells?
You can pretty much put any type of cheese you'd like in these white cheddar shells, but most mac and cheese recipes all contain plain cheddar so you could start by adding that. Then, go ahead and play with additional cheeses: Brie will give it creaminess while American or processed cheese will melt quickly and will also give your white cheddar shells a creamy texture.
Can you bake these white cheddar shells?
Many homemade mac and cheeses tell you to mix everything together, pour the mixture into a baking dish and then pop it into the oven. This gives the top a nice brown color, but can dry out the mixture a little—so keep that in mind if you choose to do so. If you like that golden brown top, go ahead and pop these white cheddar shells in the oven until they reach your desired doneness. If you liked this recipe, try more of our
best mac and cheese recipes
.
—James Schend, Taste of Home Deputy Culinary Editor
Nutrition Facts
1 cup: 538 calories, 27g fat (16g saturated fat), 79mg cholesterol, 565mg sodium, 50g carbohydrate (7g sugars, 2g fiber), 23g protein.
MORE FROM TASTE OF HOME

Taste of Home