A Game-Changing Upgrade to Fried Eggs

Food52
9/12/2018
I was reading Dinner: Changing the Game by Melissa Clark when I stumbled upon something, well, game-changing. In a recipe for Olive Oil–Fried Eggs With Scallions, Sage, and Turkish Red Pepper, Clark describes "fried sage leaves that get caught in the white." So, fried eggs embedded with fried herbs.
Here's how she does it: Sizzle sage leaves in olive oil, then "crack the eggs into the skillet on top." Baste the whites with more oil, because why not? The crispy, crackly herbs become part of the eggs like a tattoo. Why have we never done this before?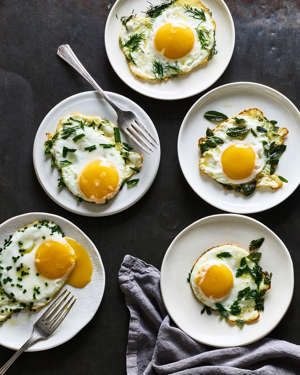 We've gotten close. Julia Turshen taught us to olive oil–fry eggs and top them with fresh herbs. Christopher Hirsheimer and Melissa Hamilton showed us that one ingredient (smoked paprika!) can take your eggs from everyday to oh-wow. And Cat Peternell convinced us that fried herbs are the best herbs.
Clark's technique is just as easy and just as flexible. In fact, when I asked her if she ever riffs on the recipe, she told me: "Every time I make it, I riff on it. I rarely make the same thing twice!" She's tried scallions, mint, and cilantro, but likes sage best "because it gets crisp."
Like her, I started with sage—and then I couldn't stop. I tried chives. I tried parsley. I tried mint and cilantro and tarragon and dill and thyme. Turns out, you can't go wrong with ruffly-edged, runny-yolked, herb-crusted eggs.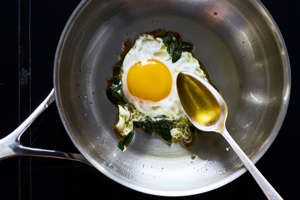 Here are a few ways to put this to good use:
Mint-fried eggs in a puddle of tomato sauce, topped with feta
Dill-fried eggs on heavily-buttered rice with many squeezes of lemon
Chive-fried eggs on a cheesy biscuit and don't forget the hot sauce
Sage-fried eggs on leftover stuffing (looking at you, Thanksgiving)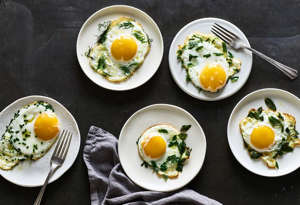 Fried Eggs With Fried Herbs
2 tablespoons olive oil, for pan-frying
1 large egg
1 tablespoon fresh herbs (see note above)
1 pinch flaky salt
MORE EGG INSPIRATION