The 12 Best Basics You Need for a Starter Kitchen

Food52
9/13/2017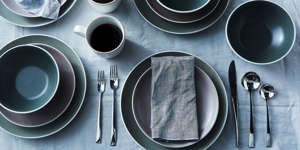 So you want to know how to cook! And you're starting from scratch. (Unless Top Ramen counts?) Your kitchen consists of a college mug, one big bowl that you use for cereal, and a frying pan that's kind of...flaking? The task of stocking a kitchen, let alone cooking in it, seems insurmountable.
We're here to help. In honor of our Dansk Kisco Dinnerware, the starter dinnerware set to rule all starter dinnerware sets (it packs four 4-piece place settings for less than $80!), we've gathered a little rah, rah, rah for you, in the form of twelve basics for your kitchen and table.
But first, the Food52 team rounded up our best, most basic cooking advice. And we're talking basic. Six words basic. Presenting:
Our Best Most Basic Cooking Advice in 6 Words or Less
Read the whole recipe first.

Read it again.

Recipes are guidelines, not gospel.

Never use dull knives.

Don't be timid with knives.

Bring meat to room temperature first.

Garlic goes in everything.

Low and slow.

More butter.

More salt.

Kosher salt, not table salt.

Salt as you go.

Taste as you go.

Wet potatoes, hot oil, no good.

Herbs are not just garnish.

Let yourself "fail".

Worst case: order pizza.

Good company makes the whole process even better.
(You got us, the last one is eight words—but it's a really good one.)
WATCH: 10 Essential Tools You Need in Your Kitchen [provided by Bon Appétit] 
Our 12 Best Most Basic Kitchen & Table Staples
GALLERY: 40 Inexpensive Meals That'll Keep You (And Your Wallet) Full