The Absolute Best Way to Roast a Whole Chicken, According to 5 Chefs

Food52
1/17/2019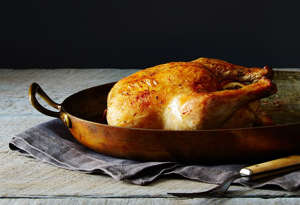 It's the ultimate comfort food, the epitome of home cooking. The dish you turn to when you need an impressive crowd-pleaser or a week's worth of meals; a humble exercise in homey resourcefulness, the ideal example of simplicity at its very best. I'm talking, of course, about roast chicken.
"I've always thought the great mark of a chef is if they can roast a chicken," said Mark Sarrazin, president of meat and poultry purveyors Debragga & Spitler Inc, in a 2016 interview with Thrillist. "It's always hard to get the thigh and dark meat cooked enough without drying out the breast. It's an interesting test for a chef."
Okay, so roasting a chicken isn't rocket science. But because it's such a simple dish, the smallest details can have the biggest impact. And the perfect bird—you know, crispiest golden skin, juiciest meat, mouthwatering seasoning—is a worthy goal and a realistic challenge for anyone, whether you're a seasoned pro planning Sunday dinner or a fledgling cook looking to build kitchen confidence. I've always felt that, at the end of the day, whomever you are: If you can roast a chicken, then you can do anything. Which is why we've decided to ask a handful of chefs to learn their absolute best ways to get a flawlessly roasted, golden bird.
Check out their top tips below, then stretch your wings and soar:
How to Roast a Chicken
1. Prep the bird and dry its skin
The first question: to brine or not to brine? (What? You thought that was just a question for the Thanksgiving turkey?) Chicken benefits from a nice soak in saltwater, too, according to Mike Reilly, the executive chef of NoMad New York and the guy who makes this amazing bird every day. "If you have the time, brining chicken is always awesome," she tells me. "It helps keep it juicer. We use salt and lemon juice at a 10-percent brine for at least an hour, up to a full day."
After brining, you'll need to completely dry your bird. Air dying in the refrigerator overnight is a one-way ticket to the crispiest, crunchiest skin, but if you're short on time, use a hair dryer or blot with a paper towel. You don't want any moisture on the skin.
Once your chicken is bone dry, let it reach room temp, says Erik Ramirez, executive chef and co-owner of Llama Inn in Brooklyn. "It not only helps the chicken cook more evenly, but actually means the meat cooks more quickly."
And should you spatchcock? Chefs were divided on this one. By removing the backbone and flattening the breastbone of your chicken, the bird cooks more quickly and evenly.
"We remove the backbone for two reasons," says Danny DiStefano, executive chef at New York City's Made Nice. "Roasting the chicken whole causes steam to accumulate, making the skin soggy. Secondly, when you flatten the chicken, the bones protect the meat but allow the skin to get perfectly crisp."
But you can have a perfectly fine bird without breaking any bones. If you don't spatchcock, then truss, says Reilly. Just don't be afraid of tying too tight. Here's our guide on how to do it.
2. Season very, very well (don't be shy)
At the NoMad, Reilly stuffs his chicken with foie gras and black truffles, but all you need for a fantastic roast is salt and basic aromatics (think herbs like rosemary, thyme, and bay leaves, or garlic, and lemon), he says.
"The key is to put a lot of salt," he says. "More salt than you'd ever think you'd need. It should look like a frosted car. As the butter you put on the chicken will melt off, it pulls off your seasoning."
But before you season, both Reilly and DiStefano recommend oiling your bird with olive oil or tempered butter.
"Lightly brushing the skin side before seasoning with a little olive oil or butter helps displace the moisture," DiStefano says. "If you season before the fat, the salt will draw moisture from skin while the chicken cooks."
3. Roast at high heat, not low
How long you roast your chicken depends on the size of your bird, your oven's idiosyncrasies, and if you spatchcock or not. But no matter what, you want to avoid slow-roasting, says Carmen Quagliata, who oversees 35 chickens daily as executive chef at New York's Union Square Cafe and Daily Provisions.
"Do not go low and long. That will dry it out," he says. Instead, Quagliata favors a hot and heavy start and a low, low finish. "I'll get my oven nice and hot—450°F to 475°F—to get that skin crispy. After 30 minutes, I lower to 300°F for another 15 to 20 minutes before taking it out."
(Psst—still unsure how long to leave it in? Barbara Kafka's Simplest Roast Chicken roasts at 500°F, untrussed, for about 10 minutes per pound and has never let us down.)
4. Cook to 165°F and let it rest
The best way to know whether or not your chicken is cooked thoroughly is to use a meat thermometer (the safe internal temperature for a whole roast chicken is 165°F in the thigh, according to FoodSafety.gov.), but Claudette Zepeda-Wilkins, executive chef of El Jardin in San Diego, California has a great visual cue.
"Your chicken is done when the juices run clear," she says. "People don't need to be so afraid."
Once you take your chicken out of the oven, give it a rest. "You should rest all meat, but it's even more important with chicken," Zepeda-Wilkins says. "To avoid dried out chicken, let the juices redistribute through the meat for 10 minutes or more."
Related video: How To Carve A Roast Chicken | Food52 + Just Bare Chicken