Your Guide to Terrific Freestyle Tacos

Food52
3/12/2018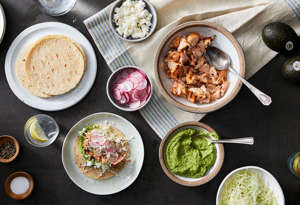 © Provided by Food52

Where I'm from—Houston, Texas—not only is it acceptable to eat a taco for every meal, it's encouraged. Our city has no shortage of options where you can enjoy one: stands, trucks, counters, cafés. And they're all good—like, really good.
A taco is a beautiful thing. A bound parcel bearing the juiciest and sweetest of gifts. One of Mexico's many culinary gifts to the world, they're versatile, customizable, portable, and go down in a pinch. Far from home, I've taken taco-making duties into my own hands. New York, if you know where to look, has no shortage of stand-up tacos; still, I find the DIY approach exciting and stimulating. I've become the master of my own taco, playing with combinations of sauces, condiments, and fillings. Sometimes, I even make my own tortilla (ooh, ahh).
If you, too, feel compelled to assemble your own taco—which you should, it's supremely easy—then consider this your guide. A few things to keep in mind: Start from the bottom and work toward the top, never skimp on sauce, and when in doubt, keep it simple. Now get going!
Tortillas
Here's your base, treat it well. I usually opt for a corn tortilla. However, the majesty of a homemade flour tortilla should not be overlooked. This Genius recipe is oh so simple but oh so Dang, that's good. If it's corn you seek, then reach for the masa. Follow only the first half of the tortilla chip recipe and stop just short of cutting and crisping. Meanwhile, here's some light tortilla history.
Related video: Guerrilla Tacos: This Is How You Make an "Authentic" American Taco (provided by bon Appétit)
Fillings
Now here's where you get to have fun with things. It's hard to get the filling wrong, but it's worth a bit of effort to get the filling right. Right? Right. Some of the suggestions below weren't even originally intended for tacos but would be great wrapped up in a warm, homemade tortilla. Make a few to mix and match, or experiment with your own inspired taco take.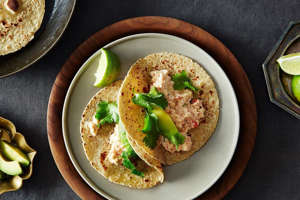 Diana Kennedy's Scrambled Ricotta (Requesón Revuelto a La Mexicana) by Genius Recipes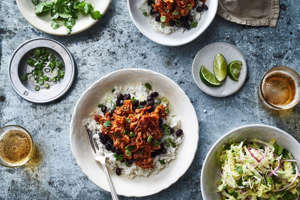 Barbecue Pulled Jackfruit by Catherine Lamb
Salsas
I'm a sucker for a good salsa. I can't toss back my taco without first topping it with a generous drizzle, plus a squirt of lime. If you're a fan of spice, then this is your chance to get that heat going. Pack some peppers into your salsa and let the flames roar. Go creamy, go chunky, go both!
Okay, now that that's all set, don't forget to garnish with some chopped cilantro and a spritz of lime juice. Your taco, and your taste buds, will thank you.
Related gallery: 20 Ways to Give New Life to Leftover Rice