What Do Apple Cider Vinegar Shots Really Do?

Taste of Home
7/13/2017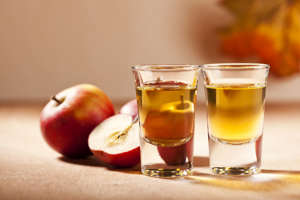 © Shutterstock The latest wellness trend makes a host of health claims, from losing weight to boosting immunity. But does it really work? 
It can be hard to keep up with wellness trends...and many sound too good to be true. Let's unpack one of the latest: shots of apple cider vinegar.
The Trend
Taking a shot of apple cider vinegar a day.
What's the Star Ingredient?
Apple cider vinegar, or ACV, is fermented apple juice, which naturally contains vitamins B1, B2, B6, C, folic acid, potassium, biotin and magnesium. Bacteria and yeast meet apple juice to kick off the fermentation process, turning the natural sugars from the apple into alcohol. A second fermentation process adds a second bacterium, acetobacter bacteria, turning the liquid into a sour acetic acid.
The Claims 

A growing online trend for using ACV for health purposes has resulted in a long list of alleged benefits. They range from detoxing to losing weight; from easing digestion to boosting the immune system; from reducing appetite to balancing blood sugar; from curing mosquito bites to clearing up skin rashes; and more. Phew!
Video: Experts Debate Health Benefits of Apple Cider Vinegar (by Wochit News)
The Reality 

While vinegar has been used in medicine for hundreds of years, most reputable sources, such as the Mayo Clinic, don't advise swallowing jolts of vinegar. There's no real evidence to back up most of the health claims. Even worse, taking shots of the highly acidic liquid can damage the enamel of your teeth, as well as harm your esophogus and even lungs.
How To Try It Instead 

If you like the idea of trying a natural remedy like apple cider vinegar, dilute 1 Tbsp. in a full 8-oz. glass of water and drink in the morning or right before a meal. This will help reduce the impact of the acid, making it literally easier to swallow.
For another low-impact experiment, try external applications of ACV. Swiping vinegar over mosquito bites is said to cut itching (worth a try!), and may also serve as a skin toner. (Again, these benefits are largely anecdotal.)
Apple cider vinegar is available in most grocery stores. For more clever uses of natural products, check out our ideas for cleaning with lemons or salt.
Gallery: 11 surprising beauty benefits of apple cider vinegar we bet you didn't know (by Reader's Digest)
11 Surprising Beauty Benefits of Apple Cider Vinegar We Bet You Didn't Know About