A Dietitian's Surprising Take on Cannabis Edibles

US News & World Report - Health
6/4/2018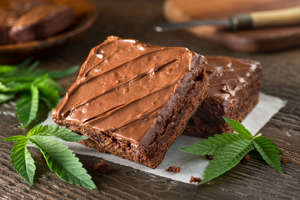 © Fudio/Getty Images She's for 'em – and it's got nothing to do with getting high.
Some 30 states – including California, where I live – now have legalized medicinal or recreational marijuana laws. That means a growing number of canna-curious men and women are trying cannabis edibles to improve their health – not to get high.
The new cannabis consumers are a stark contrast to stereotypical stoners who eat Taco Bell and watch "Rick and Morty." They're more likely to be foodies in their fifties who don't smoke, vape or eat gummies (too much added sugar!). They want micro-doses of medicinal marijuana infused into great-tasting, all-natural, wholesome foods and beverages to improve sleep, bolster immunity, alleviate pain, mitigate migraines and much more.
Many choose cannabis in lieu of drinking alcohol or as a natural alternative to pharmaceuticals used to treat pain, insomnia and depression. And contrary to popular belief, cannabis may actually help whittle your waistline by reducing stress-related binges as well as helping you cut back on alcohol. 
Even though legal medicinal cannabis has only been around for a few years, the Specialty Foods Association says cannabis edibles are one of the top 10 food trends of 2018. You can find hundreds of healthy, all-natural teas, extra-virgin olive oils, nuts, energy bars, coffee, cacao, crackers, miso, honey and alcohol-free wines. And if that's not enough, there are several artisanal, cannabis-infused dog and cat treats for your four-legged companions.
Studies show that there are more than 100 different cannabinoids and related bioactive compounds in the cannabis sativa plant. Most of the new marijuana or hemp-infused edibles contain one or both primary cannabinoids that have been shown to provide a wide variety of health benefits by attaching to the the body's natural endocannabinoid receptors: tetrahydrocannabinol, or THC, and cannabidiol, or CBD. THC is the cannabinoid that gives you a high or buzz; CBD-only products are non-psychoactive and available in all 50 states. Many edibles include micro-doses of THC to enhance the health effects of CBD, which is commonly referred to as the "entourage" or "synergistic" effects of consuming a more whole plant product versus isolated compounds.
Studies show that CBD may be a natural way to treat epileptic seizures, anxiety disorders, insomnia, inflammation, chronic pain, nausea, rheumatoid arthritis and even some types of cancer and neurological disorders. (Talk to your doctor before trying CBD to treat medical conditions, though, since the research is still young and CBD isn't always recommended in place of other treatments that have stronger evidence bases.) If you want general health benefits, CBD-only edibles and other products are a good place to start. You can find CBD-infused teas, nuts, oils and much more. Keep in mind, though, that the products may interact with other medications and supplements, so it's a good idea to loop your doctor in in these cases, too. 
If you want to try a product that contains CBD and THC, experts provide this important advice: "Start low and go slow. With cannabis-infused foods and beverages, achieving the health effects you're looking for may require a little trial and error," explains Dr. Perry Solomon, the medical director of HelloMD, a digital healthcare platform for the cannabis community. "Everyone responds to cannabis differently, and edibles are notoriously tricky to dose because several variables impact how quickly you may start to feel its effects – from when you last ate, your body weight, sex and your percent body fat." I've spoken to numerous friends who have complained that they have had negative experiences when they inadvertently consumed too much THC from edibles.
To start, ask for advice at a dispensary or from the manufacturer. If you're trying to buy products with THC, you'll need a medicinal marijuana card in most states. I received mine online at HelloMD in a few simple steps. With my medical cannabis card, I've tried several foods and beverages available in California that have high CBD:THC ratios from about 18:1 to 10:1, and I take no more than a few milligrams of THC in a dose. Some popular products available in California that I like include single-dose honey, dark chocolate, chocolate-covered strawberries and tea.
Since it can take 90 minutes to two hours until you begin to feel any effects of THC in an edible, don't take more than a single dose – even if you're not feeling anything. If you do, you may have a negative experience and it may take somewhere between six and eight hours until you've fully metabolized the THC. 
Like eating a diet rich in fruits, veggies, whole grains and plant-based fats, using cannabis for health benefits means making it part of your overall healthy lifestyle. This may take a little bit of trial and error to find what works best for you. Personally, I have found that an evening cup of a tea with a high ratio of CBD to THC helps me sleep better at night, which helps me be my best during the work day.
Copyright 2017 U.S. News & World Report
Gallery: What marijuana really does to your body and brain (courtesy Business Insider)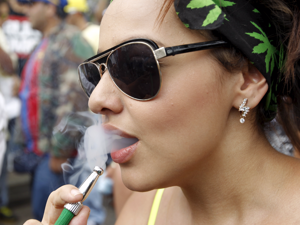 More from U.S. News & World Report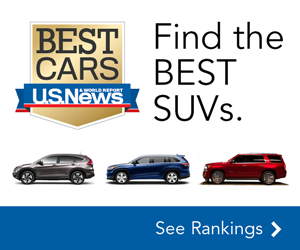 US News & World Report - Health