Plant Which Can Cause Blindness Spreads to New State

Newsweek
6/18/2018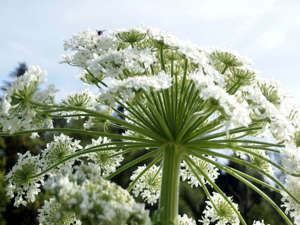 © kacege photography/Getty Images "Giant hogweed makes poison ivy look like a walk in the park," officials warned.
Officials have warned the public against touching giant hogweed, which can burn the skin and cause blindness, after it was spotted for the first time in Virginia. 
Also known as Heracleum mantegazzianum, giant hogweed has a clear, watery sap which can burn the skin and cause painful blistering when combined with moisture and sunlight. The resulting blisters can leave behind permanent scarring. This process, known as phytophotodermatitis, happens when the sap makes the skin more sensitive to sunlight.
After the blisters have healed, the skin can remain sensitive to light for many years, officials in Virginia warned.
On Wednesday, the Isle of Wight County, Virginia issued a safety alert stating giant hogweed had been found in the state.
"Giant Hogweed makes poison ivy look like a walk in the park," officials warned on the Isle of Wight County Virginia Facebook page.
The Massey Herbarium at Virginia Tech university, which researches the state's flora, confirmed it had identified the first giant hogweed population in Clark County.
Officials stress giant hogweed must only be handled when wearing protective clothing such as eye protection, coveralls, and rubber gloves. The plant should not be mown or cut using mechanical equipment, as this can expose skin to the sap and a new plant will regrow unless its roots are removed. It must be disposed of using heavy duty garbage bags.
Blisters can form within 48 hours after a person has touched the plant. Those whose skin comes into contact with giant hogweed are advised to wash the area with soap and cold water as soon as possible, and protect it from sunlight for 48 hours. If it enters the eyes, they should be rinsed with water and sunglasses should be worn. Anyone who has a reaction to the plant should visit a physician, according to New York State.
The plant has been placed on the Virginia Invasive Plants Early Detection Species list, meaning that while it does not grow widely in the state it has been known to thrive in similar habitats. Members of the public who spot the plant have been asked to contact the The Virginia Department of Conservation and Recreation.
Giant hogweed is already found in the Pacific Northwest, and the northeastern states of New York, Massachusetts, Maine, Pennsylvania, and Connecticut. It has also been reported in one country in North Carolina, according to the Virginia Invasive species register.
The federal government has listed the plant as a noxious weed, alongside the states of Alabama, California, Connecticut, Florida, Massachusetts, Minnesota, New Hampshire, North Carolina, Oregon, Pennsylvania, South Carolina, Vermont and Washington.
A perennial herb, giant hogweed originated in the western Caucasus Mountain range in West Asia, and is believed to have spread around the world by collectors working for botanical gardens. It can grow up to 14 feet or more, and is a member of the carrot family.
Gallery: 20 plants that could kill you (courtesy Espresso)