Stroke rates drop for older adults, rise in young

Reuters
11/29/2016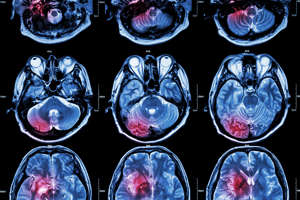 © stockdevil/iStock/Getty Images (Reuters Health) - Even as stroke rates continue to decline for some older Americans, they're rising among younger adults, a recent study finds.

People born in the first decade of the "baby boom generation," between 1945 and 1954, had lower rates of stroke than those born 20 years before or after, researchers report in the Journal of the American Heart Association.
"The decrease in smoking and better medicines for cholesterol and blood pressure were likely the cause of the decrease in the baby boomer generation," said lead study author Joel Swerdel of Rutgers University in New Brunswick, New Jersey.
"However, increases in obesity and diabetes in the younger generations may have trumped those advantages," Swerdel added by email.
"There is also evidence that younger adults are less adherent to their prescribed medications, which may be due to unwanted side-effects or lack of health insurance," said Swerdel, who is also manager of epidemiology analytics at Janssen Pharmaceuticals in Titusville, New Jersey, part of Johnson and Johnson.
For many decades U.S. stroke rates have declined along with reductions in smoking, high blood pressure and high cholesterol, researchers note.
To assess whether these declines are continuing in the next generation, researchers examined data on hospitalizations for heart disease and stroke in New Jersey between 1995 and 2014.
Between the first period of the study, from 1995 to 1999, and the final period from 2010 to 2014, stroke rates doubled among people aged 40 to 44 and increased 2.4-fold among adults aged 35 to 39.
The odds of stroke rose less dramatically for middle-aged adults, increasing 68 percent during that period for people aged 45 to 49 and 23 percent for adults aged 50 to 54.
Among all age groups over 55, however, stroke rates declined during the study period.
For people in the youngest group, from 35 to 39 years old, stroke risk rose in absolute terms from 9.5 cases per 100,000 person years at the start of the study to 23.6 cases per 100,000 by the end.
For people 55 to 59, stroke risk dropped from 219.7 cases per 100,000 person years to 195.6 cases per 100,000 at the end of the study.
With the oldest group, from 80 to 84, stroke risk fell from 1,607.5 cases per 100,000 to 1,257.5 per 100,000.
One limitation of the study is that researchers lacked data on early life conditions or lifestyles that may have influenced the subjects' stroke risk, the authors note.
Even when people come from a generation with worsening stroke statistics, there's still plenty they can do to lower their own risk, Swerdel told Reuters Health.
"Changes in diet, exercise level, and taking medications as prescribed will all reduce the risk of stroke," Swerdel said. "As far as minimizing the after effects of stroke, I think that paying attention to early warning signs of stroke, such as recognizing transient ischemic attacks (TIA) or "mini-strokes," and seeking treatment immediately is very important."
Symptoms of a stroke can include sudden numbness or weakness of the face, arm or leg, especially on one side of the body, as well as confusion, difficulty speaking or understanding speech, blurred vision or trouble walking along with loss of balance or coordination.
Spotting symptoms and getting to the hospital quickly is crucial for stroke patients of any age, noted Dr. Daniel Lackland, a researcher at the Medical University of South Carolina in Charleston.
"It's important for family members to know the signs of the stroke - and call 911 when the symptoms appear," Lackland, who wasn't involved in the study, said by email.
SOURCE: http://bit.ly/2gtjGsA Journal of the American Heart Association, online November 23, 2016.