Alchemy Bar Forty is the New Twenty Martini Cocktail

Tammilee Tips
9/23/2022
The Alchemy Bar on Carnival Cruise Lines cures what ails you. The Forty is the New Twenty Martini may not make you younger but it tastes amazing.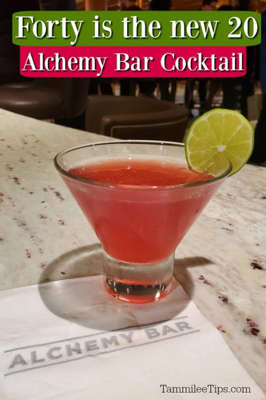 Forty is the New Twenty Martini Cocktail
You all know we LOVE the Alchemy Bar on Carnival Cruise Ships! I am pretty sure we should have a t-shirt that says I love the Alchemy Bar and you should too. LOL!
Ok, that may be a bit much but honestly, we really do love relaxing at the Alchemy Bar. It is the perfect place to relax before dinner or a show.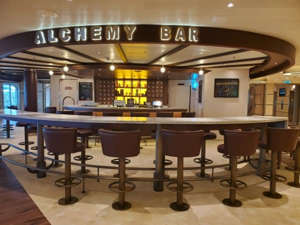 With the new Carnival Cruise ship design, the Alchemy Bar is now near the heart of the ship. It is no longer tucked away in the back of the ship which is good but it also makes the Alchemy Bar a lot busier than it used to be. Which I am sure was the goal.
It is cool to see how popular the Alchemy Bar has become on the Carnival Cruise Ships.
If you read our post about the Restorative Basil Drop Cocktail you saw that we are trying to push ourselves and try new Alchemy Bar Cocktails.
We always spend time at the Alchemy Bar when cruising with Carnival but I fell into a rut. I was only ordering my favorite drinks which are delicious but I realized there was an entire Alchemy Bar Menu that I hadn't tried.
Ingredients
Skyy Vodka
Pomegranate Liqueur
Lemonade
Cranberry Juice
Recipe Tips
OXO angled jiggers - these are our go-to measuring tools for cocktails. They work perfectly for pouring in layers for cocktails.
Cocktail Shaker - You will want to use a cocktail shaker that you can easily hold and shake. Make sure to hold both ends of the cocktail shaker. You want to shake the cocktail until it is chilled but not watered down.
Stemless Martini Glasses - If you want the same look of the Carnival Alchemy Bar you will need stemless martini glasses.
Carnival Cruise Cocktail Recipes
Check out all of the amazing Alchemy Bar Cocktail Recipes we have shared!
Do you love recipes? Check out our copycat recipes, dessert recipes, and our CrockPot Recipes.
Follow Tammilee Tips on MSN, Facebook, Instagram, Pinterest, and Twitter for all of our recipe posts.
Head over to TammileeTips.com to print the complete -> Forty is the New Twenty Martini Cocktail