Night Owls Can Eat Junk Food And Never Gain Weight, Says Science

YourTango
2/13/2018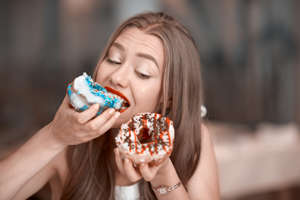 © Getty Images Are you a night owl? Do you come alive in the afternoon, staying up late either binge-watching Orange is the New Black or going clubbing? Do you find that you enjoy eating junk food over healthier choices like salads and steamed veggies?
Well, sleeping in and staying up late may have something to do with why you love snacking on burgers and fries, and why you don't gain weight.
A recent study, which was presented at the annual meeting of the Associated Professional Sleep Societies, found that people who are late sleepers eat fewer vegetables and more fast food, and are less physically active than early risers.
What was surprising to the researchers was that, while one would assume that junk food and less exercise would mean a higher body mass index (BMI) and body fat percentages, both were in normal range. You read that correctly: night owls can eat junk food and not gain a ton of weight.
For the study, 96 adult participants between the ages of 18 to 50 were asked to wear monitors that measured their sleep and physical activity for a week. The participants also were asked to keep food diaries for the duration of the study.
The researchers found that the late sleepers (those who, on average, went to bed at 12:45 AM) ate fewer vegetables and more fast food, and were less physically active than the early risers. Yet, they weren't overweight or obese.
One explanation for the poor habits but no weight gain, is that the night owls aren't consuming more calories when they stay up late, just not healthy calories.
Sleep expert, Michael Breus, PhD, author of the book The Power of When, has his own theory. In an article in TIME, he said, "Night owls might genetically be programmed with a higher metabolic rate that makes up for eating high-fat, high calorie foods." 
Just because night owls don't gain weight, it doesn't mean that the constant eating of junk food isn't damaging their bodies in other ways and that their high fat diet won't catch up to them along the way.
If you're a night owl who eats junk food, try to change your diet to include healthier foods. You can't live like a college kid forever.
This article was written by Christine Schoenwald from YourTango and was legally licensed through the NewsCred publisher network. Please direct all licensing questions to legal@newscred.com.
Gallery: 17 reasons you can't lose weight, according to nutritionists