Sugar Causes Breast Cancer, According To Study

YourTango
3/9/2018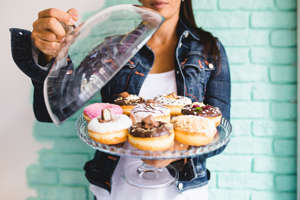 © hedgehog94/Getty Images Today, in "Things That Cause Cancer," a new addition has been made: sugar. To be more specific, sugar in Western diets. 

According to a study published at the beginning of this year by Cancer Research, researchers explored a link between western diets and cancer. 
The University of Texas Anderson Cancer Center performed four studies that involved putting mice in random diet groups. Six months later, they found that in the starch-control diet, 30 percent of mice had measurable tumors. But in the sucrose-enriched diets, specifically the fructose in the diet (like table sugar and corn syrup), a whooping 50 to 58 percent of mice developed mammary tumors.
According to professor Lorenzo Cohen, fructose is "ubiquitous within our food system."
A high number of the mice also developed lung metastases, compared to those in the starch-control diets.
"We found that sucrose intake in mice comparable to levels of Western diets led to increased tumor growth and metastasis, when compared to a non-sugar starch diet," said assistant professor Peiying Yang. According to Yang, this was primarily due to "increased expression of 12-LOX and a related fatty acid called 12-HETE."
Studies in the past have shown that high sugar intake in diets has an impact on breast cancer development, with inflammation believed to play a role. But this study is a little different.
"The inflammatory cascade may be an alternative route of studying sugar-driven carcinogenesis that warrants further study," Yang said. 
This study used a more direct approach by examining the direct effect of sugar on breast cancer development, and using animal models and examined specific mechanisms.
Researchers advise that changing your diet and moderating sugar intake is a must. They identify sugary drinks, in particular, as a significant contributor to many of the world's health problems such as obesity, heart disease, and cancer.
So after the holiday and New Year festivities, a healthier lifestyle and less sugar-concentrated diet should be on the top of everyone's New Year's Resolutions. 
This article was written by Caithlin Pena from YourTango and was legally licensed through the NewsCred publisher network. Please direct all licensing questions to legal@newscred.com.
Gallery: Top 10 breast cancer risk factors (courtesy Rodale Wellness)