The Dilemma of the Gluten-Free Diet

The Wall Street Journal.
4/16/2018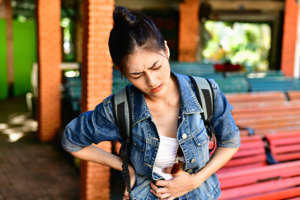 © siriwat nakha/Getty Images People with celiac disease can still consume enough of the protein to trigger health problems.
It's not unusual after eating that the symptoms set in for Lee Graham: severe stomach pain and worse.
"It's always sort of a game of Russian roulette when you go out to eat," says Ms. Graham, executive director of the National Celiac Association, a Needham, Mass.-based nonprofit that advocates for people with celiac disease.
What's frustrating for Ms. Graham is that this can happen even when she's eating what is supposed to be a gluten-free meal.
A new study in the American Journal of Clinical Nutrition shows that eating gluten-free is nearly impossible, underscoring the need for better treatments for patients with celiac disease.
The good news: About half a dozen potential treatments are in the works, ranging from a vaccine to a capsule designed to regulate the gut. But most are at least a couple of years from entering the market. And celiac patients would still have to maintain a gluten-free diet, which is currently the only answer for the disease.
Experts say up to 1% of the global population has celiac disease, an autoimmune condition in which people develop an immune reaction to gluten. Gluten is a protein that appears in any food containing wheat, barley and rye. The immune system reaction results in inflammation and damage in the lining of the small intestine, which can lead to medical complications, such as acute stomach pain and failure to absorb nutrients.
The odds of getting celiac disease in the U.S. have increased four- to fivefold over four decades, says Peter Green, director of the Celiac Disease Center at Columbia University Medical Center, but have leveled off in recent years.
"There has been this increased rate of diagnosis as well, but there's still a lot of people with celiac disease who don't know they have it," Dr. Green says. He was an author on another study looking at the global prevalence of celiac disease published in 2017 in the journal Clinical Gastroenterology and Hepatology.
Dr. Green says it's unclear what the lowest level of gluten is that causes intestinal damage in patients. "About 30% of people don't get better on a gluten-free diet," he says.
The American Journal of Clinical Nutrition study used data from three prior clinical trials to estimate how much gluten 246 celiac patients were ingesting. The gluten measurements were based on either a stool or urine sample.
The study found that on average patients were ingesting 200 to 250 milligrams of gluten a day, says Jack Syage, CEO of ImmunogenX, a Newport Beach, Calif.-based biotechnology company, and first author on the study. Someone without celiac disease eats about 7,500 to 10,000 milligrams of gluten a day.
The study didn't look at where the gluten comes from. Dr. Syage says researchers guess much of it is inadvertently consumed when food is contaminated during processing or preparation.
Those with celiac disease typically need to limit exposure to under 100 milligrams, but the threshold can vary depending on a person's sensitivity, says Joseph Murray, a professor of gastroenterology at the Mayo Clinic in Rochester, Minn.
© Image Source/REX/Shutterstock The U.S. Food and Drug Administration requires that packaged foods labeled gluten-free contain fewer than 20 parts per million of gluten—the equivalent of 20 milligrams of gluten in one kilogram of food. Gluten Free Watchdog, a group that tests packaged gluten-free foods, has found that foods test at or above 20 parts per million of gluten about 4% of the time.
Dr. Murray is working with ImmunogenX on developing an enzyme called latiglutenase, designed to be taken with meals to help patients digest gluten. ImmunogenX acquired the enzyme mixture from Alvine Pharmaceuticals in 2016 after a phase 2 trial failed to demonstrate healing of the small intestine. The study showed improvement of symptoms for a subgroup of celiac patients. The current ImmunogenX trial will focus on the 20% of celiac patients who have persistent symptoms while following a gluten-free diet.
The company is launching a final phase 2 clinical trial in a few months. If successful, it would have to do a phase 3 trial before applying to the FDA for approval as a drug. The earliest a commercially available drug could hit the market is late 2020.
Innovate Biopharmaceuticals in Raleigh, N.C., expects to launch a phase 3 trial later this year for larazotide acetate, a drug taken as a capsule that would be taken before every meal.
Jay Madan, founder and president of the company, says the drug helps regulate the leakiness of the gut. Results from phase 2 clinical trials showed improvement in abdominal symptoms. The drug isn't absorbed by the body and was well tolerated in more than 500 patients.
Immusant, a Cambridge, Mass.-based biotechnology company, will enter into a phase 2 clinical trial of its vaccine, Nexvax2, this year, says Leslie Williams, president and CEO of the company.
The vaccine doesn't prevent celiac disease but is a therapeutic treatment akin to an allergy shot, she says. It would require self-injecting weekly to maintain non-responsiveness to gluten.
"Our initial approach is to protect patients against inadvertent exposure to gluten," Dr. Williams says. "Ultimately we will see if we can get them to reintroduce gluten, too."
Researchers will present the results of phase 2 clinical trials of the drug AMG 714 in June, says Francisco Leon, the co-founder and former CEO of Celimmune, which was recently acquired by Amgen.
Dr. Leon, who now works as a consultant to Amgen, says the drug is an antibody that blocks interleukin-15, a protein that stimulates the immune system in the gut, causing damage and gastrointestinal symptoms.
Researchers tested the drugs in a pair of phase 2 studies. One featured patients with refractory celiac disease type 2, the most severe form of celiac disease. It affects about 1 in 200 celiac patients and is considered lymphoma of the gut. Doctors also tested the drug with a larger population of celiac disease patients.
Several other treatments are in earlier stages of development. Cour Pharmaceutical in Chicago and Takeda Pharmaceutical in Japan are using nanotechnology to try to reprogram the body's immune system to enable patients to develop a tolerance to gluten and potentially reverse symptoms of the disease.
The companies launched a phase 1 trial in February which they expect to complete in March of 2019.
Write to Sumathi Reddy at sumathi.reddy@wsj.com