I Lived Like Miley Cyrus For a Week, and It Convinced Me to Keep Up Her Fave Diet

PopSugar
4/10/2018
Miley Cyrus: the tale of the two women (three if you include Hannah Montana) living one radical life that I set out to imitate for one week. To be clear, I've made the distinction between Miley prebreakup and Miley post-breakup. Prebreakup Miley includes neon colors, panda bears, furry onesies, pasties, and bumping and grinding with Robin Thicke. Post-breakup Miley includes walks on the beach (preferably Malibu), plants, OMing, and animals. Lots of them.
So, when I took on the task of living the Life of Miley for one week, I made it my intention to embody all of Miley. Meaning, I wore onesies while I meditated and chased my Mommy Juice (also known as Malbec) with fresh green juice. Since I was already rocking a pretty solid grown-out balayage look and mastered a successful breakup and makeup with my then boyfriend, now husband, when I too was in my 20s, I decided to focus specifically on Miley's eating and fitness routine - a vegan diet, mixture of Pilates and Yoga, and good vibes (and tunes).
My intention? To depuff my fat face by eliminating dairy from my diet, strengthen my "baby abs" with a core-specific Pilates routine, and deepen my flexibility with a daily self-yoga practice. If a young, hot, Australian boyfriend magically appeared too, I wouldn't say no. The reality? I'm a mother of a 20-month-old daughter. Therefore, fitness classes were missed, candy was eaten, and I needed my coffee (with milk)! But since Miley hasn't been one to take herself too seriously, I figured I wouldn't either.
To my surprise, even with a cheat snack or missed class here or there, I actually felt clearer, open, and more receptive to my body's cues, wants, and needs by the end of the week. While I surprisingly craved meat as the week went on (and I don't even eat a lot of meat to begin with), I now find myself thinking about the morality of veganism and often opt for the vegetarian option when given the choice. Also, making fitness a priority became less about the physical end goal and more about how good it feels to make space in my body. I felt more in tune with my body's abilities and more receptive to my meditations. And while I was mentally PSYCHED to stuff my face with pizza at the end of the week, my physical body definitely wasn't and let me know the next morning when I ended up on the toilet (TMI? Oh well.) Suffice to say, I plan to keep this half-assed vegan attempt and fitness commitment going.
Ahead is a day-by-day breakdown of my best attempt to living a Life of Miley. If you're feeling inspired to take the climb toward a Miley-based lifestyle, see the Miley Hacks ahead to set yourself up for success.
1.Plan Ahead
Get out your planner, and write down each day's intended meal and activity. Explore different restaurants and studios in your neighborhood (some fitness studios offer free classes for first-timers), and set a specific time to commit to your meals and movement. Structure is key!
2.Go Shopping
Well, I dropped the ball on this one. About midway through day one, I called my husband frantically saying, "I'm going to starve! There's no food in the house! I'm too weak to drive to the food store. SEND HELP!" Being the angel that he is, hubby made an emergency run to Trader Joe's and stocked up on the essentials. My vegan friend suggested that I find one fruit, one vegetable, and one vegan meal that I love and eat them on repeat. When I had a craving for something on the banned list, I could grab a snack that I knew I loved without the stress. Lifesaver!
3.Do your research
Find your local vegan-friendly establishments, foodie blogs, and fitness inspirations. Knowledge is power, especially when you are trying something new.
4.Plan a budget
Eating plants and doing Pilates and Yoga isn't cheap! Oftentimes, I was so overwhelmed by recipes (see #2 above), that I ended up driving 20 minutes to pick up a $15 sandwich at the one vegan restaurant in the neighborhood. If you want to really to set yourself up, start saving now, and buy yourself a personal chef, Pilates trainer, and yoga instructor. Then you'll really be like Miley!
5.Balance
It's not that serious. Unless you're a true vegan, and then it's very serious! But if you're not and you're just looking to deepen your connection to your body by what you eat and what you do with it, then be easy on yourself. Miley wasn't built in a day. Make one small shift a day to live consciously, and eventually those small shifts will make a big difference!
Day One:
Meal 1: Smoothie: 1/2 banana, pear, almond milk, almond butter, 1/2 lemon, flax.
Meal 2: Trader Joe's lentil soup.
Cheat Snack: Teddy Grahams, Gold Fish, and gummy bears (at least they weren't real animals!). Meal 3: Farro salad: farro, baked sweet potato, baked hazelnuts, dates, and kale.
Exercise: Taught two hot yoga classes and did a self-yoga practice (baby included).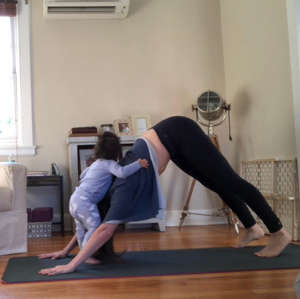 Day Two:
Meal 1: Steel-cut oatmeal with blueberries, almond milk, and agave.
Meal 2: Smoothie: 1/2 banana, pear, almond milk, almond butter, 1/2 lemon, flax.
Meal 3: (WANTING MEAT NOW): Quinoa veggie burger with mesclun mix and almond hummus from Pureganic.
Cheat snack: Coffee with regular milk and three butter cookies (enter shameful emoji face here). My mouth felt yucky after I drank real milk.
Meal 4: Baked Brussels sprouts, baked potato.
Snack: Strawberries.
Exercise: Self-yoga practice.
Bonus: My skin was looking fresh, and my tongue was looking healthy!
Day Three:
Meal 1: Strawberries, chai soy latte.
Meal 2: Farro, cucumber, tomato, and onion salad with grilled carrots.
Cheat snack: Three oatmeal raisin cookies and a bite of a cupcake (two bites, if I'm being honest).
Meal 3: Quinoa veggie burger with mesclun mix and almond hummus from Pureganic.
Exercise: Self-yoga practice.
Bonus: I started to feel the difference when I ate clean food vs. processed, and it did not feel good!
Day Four:
Meal 1: Oatmeal with agave and apples, white orchard tea.
Meal 2: Green smoothie from Trader Joe's, avocado, kale chips.
Meal 3: Farro, baked squash, baked hazelnuts, kale, and dates.
I
© Image Source: Jen Aloisi Ham
Cheat snack: Brownie.
Exercise: Missed my Pilates class, but did the MegaFormer at MF3, which is basically Pilates on steroids.
Day Five:
Meal 1: Green smoothie from Trader Joe's.
Meal 2: Waffle made of rolled oats, gluten-free flour, and maple syrup from Pureganic.
Meal 3: PIZZA for the grand finale! Sorry, not sorry.
Slideshow: 23 natural ways to boost energy and fight fatigue (Courtesy: Cheapism)