This Woman Dropped 85 Pounds by Following a Few Simple Rules

Good Housekeeping
9/28/2017
It's a lot easier than you think.
Molly Smith, a nutrition student from Vancouver, weighed almost 225 pounds at her heaviest due to a self-proclaimed food addiction. She'd binge on high-calorie snacks and over-eat when she "got hold of treats."
Smith, 24, even became depressed, stating that "being overweight is so much more than a physical challenge, but a mental one too."
Then, she fell for a guy and began losing weight in the hopes that he'd finally be interested in her. In the process, though, Smith shed the pounds for someone even better: herself.
It started out bumpy (as any journey does) and she went about her dieting the wrong way - cutting back her daily calorie count until she was "essentially starving herself."
But Smith eventually found the right weight-loss method that she's stuck to 'til this day: working out regularly and consuming a normal amount of calories from food that's healthy.
Now, at around 140 lbs, she's lost 85 since she was at her biggest and looks and feels better than ever.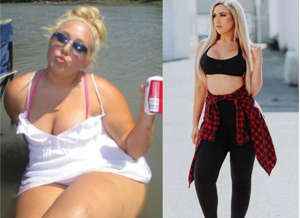 © Instagram Just got a bunch of photos back from my shoot with @aliciamphoto and @kelseyrae_mua also shout out to @thextensionist for always keeping my hair on point (molly10) for discount of any Extensionst packages! _______________________________ This is what happy looks like. This is what hard work paying off looks like. This is where I made my dreams come true. I used to dream of wearing a sports bra in public. I never thought I'd actually get to. I've never been this happy in my life. Sometimes I feel like it's all a dream. Live the life you dream of, you're 100% in control. Don't like the movie? Don't finish it. Don't like your life? Change it. We're so custom to just accepting that we are the way we are, it's bull sh*t. If someone told me 3 years ago that I would devote my life to fitness I would have laughed in their face. I never had a single interest in fitness. I didn't like fitness for a year into my journey. DON'T LIKE YOUR LIFE? Change it. NOW. _________________________________ Go slay today, love you guys. ❤️ _____________________________ #weightloss #weightlossmotivation #weightlossmotivation #weightlossjourney #weightlosstransformation #transformation #transformationtuesday #fit #fitspo #fitness #diet #excercise #dietplan #beforeandafter #beforeafter #beforeandafterweightloss #saved #newme #loveyourself #glowup #fattofit #fatloss #fat #obese #obesetobeast #girl #me #blonde

A post shared by Molly Smith - Weightloss 👙💋💄🇨🇦 (@molsinspire) on Sep 26, 2017 at 12:09pm PDT
It's proven that the right diet and exercise are the key to transforming your body.
"I go back and forth when I'm dieting and I'll usually eat around 1,200 to 1,500 calories a day and get in as much exercise as possible," Smith explained to Daily Mail. "I try to avoid carbohydrates and eat tons of fresh food."
She continued, "At the start, I mainly focused on low-calorie foods and what was going to get me skinnier at any cost, these days I'm so concerned with the quality of food and nutrition."
So, with a healthy 1,200 daily calorie diet full of fresh food and dedicated workout plan, Smith has taken control of her life.
Smith said she used to be entitled and "never took accountability" for her actions. But losing the pounds taught her the worth of determination and the responsibility we have to ourselves to do something if we want to make a change for the better.
© Instagram One of my biggest transformations has been in my back, after losing this first 10 lbs I didn't see it in the mirror at all and definitely didn't feel any difference in my clothes. It seemed like the only thing that changed was the scale. When I was that size 10lbs isn't a lot, yet now 10 lbs looks like a MASSIVE change. Thank god I took before photos because where I did start seeing a change was the rolls on my back. I was always the most excited to take a new comparison photo of my back. TAKE PHOTOS, I know they suck, trust me I'm taking my pre cut photos right now after too much chips and wine this summer. But wow will it ever feel good to compare them in two months!!! ______________________________________ DIETBET STARTS IN 9 days!! It's no excuses this September!!! Who's doing it with me? Dietbet.com/molsinspire or links in my bio 💙💜💚💛 . . . . . #weightloss #weightlossjourney #weightlossmotivation #weightlosstransformation #fitspo #fitgirl #fitgirls #summer #summerbody #bikinibody #loseweight #transformationtuesday #transformation #weightlossstory #goals #hardwork #dedication #diet

A post shared by Molly Smith - Weightloss 👙💋💄🇨🇦 (@molsinspire) on Sep 9, 2017 at 10:44am PDT
Smith has found motivation through what she refers to as an "accountability group," Diet Bet, where you essentially bet on yourself to lose weight (and losing those pounds can even earn you money). Joining the site was the extra push she needed to keep her "accountable" and "on track" to her goals after hitting speed bumps along the way.
Smith runs her own Diet Bet groups so that she can inspire others who want to transform their bodies and lifestyle. Her advice for these people? "Start small and work your way up." And, she added, "most importantly, be patient." After all, it's not just about the end result; it's about the journey that gets you there.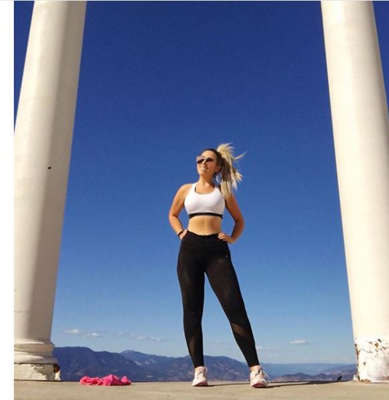 © Instagram Its amazing that people get so used to feeling like sh*t that they don't even know that something's wrong. We're normalizing sickness and disease. I used to feel horrible all the time but to me that was just the usual. Until I became healthy I didn't even know there was another way to live. When I eat like crap and drink, I'm constantly tired, lethargic, feelings of depression, stomach pain and the list goes on. Our bodies are crying out for help and we just ignore them and to me that's extremely sad. It's time for things to change! This is going to be my year, I'm going to better myself and help educate others so we can work towards ending preventable diseases like type 2 diabetes and obesity. Check out my New YouTube molly smith - molsinspire. I'll be posting vlogs and education videos weekly! ______________________________ Start today - Dietbet weigh in opens TODAY! It's time to take your life back and focus on your health. You get one body - one life. And hey, if you're going to lose weight may as well get paid to do it! _____________________________ Dietbet.com/molsinspire or links in my bio!

A post shared by Molly Smith - Weightloss 👙💋💄🇨🇦 (@molsinspire) on Sep 16, 2017 at 12:56pm PDT
Gallery: The 75 best weight-loss tips of all time (courtesy Woman's Day)
The 75 Best Weight-Loss Tips of All Time
[h/t Daily Mail]