This is the popular fitness app that helped Danielle lose 40 lbs.

PopSugar
9/24/2018
Danielle Rivoli was familiar to working out hard and participated in intramural track and soccer in college along with doing CrossFit. Danielle was fine with her figure, but once she booked a Caribbean vacation for her 31st birthday, she decided it was the perfect time to completely change her routine and get into shape.
Her goals were to be able to put on a swimsuit and feel confident. Ready to set a healthy example for her daughters, take better care of herself, and get strong, Danielle decided to embark on a weight-loss journey. 
POPSUGAR: What made you embark on your weight-loss journey?
Danielle Rivoli: At the age of 27 I gave birth to my first daughter, and 18 months later gave birth to my second daughter. It was at this time I put my career in sales on the back burner to be a stay-at-home parent. After booking a little family trip to the Caribbean for my 31st birthday, and feeling sluggish, lazy, and tired all the time, I decided I wanted to step up the at-home workouts I had been doing. I wanted to be able to put on a swimsuit on this trip and feel confident and be in family photos on the beach and not abruptly delete them. I wanted to set a good healthy example for my girls.
I was an athlete my entire life, playing soccer, track, and participating in intramural sports in college, and doing CrossFit in my mid-20s. I decided it was time to join a gym a make a commitment to take care of myself, get stronger, and challenge myself. I figured a gym with day care would work for me, and I could really use the added mental benefit of some me time!
PS: How much weight have you lost to date and how long did it take?
DR: Between the two pregnancies I had gained around 60 pounds. At around one year postpartum after my second daughter I had lost close to 20 pounds with at-home workouts, breastfeeding, and eating well, but I was still 40 pounds over where I wanted to be.
PS: How did you lose the weight? Did you follow a specific workout?
DR: I started out doing at-home kitchen workouts - some from YouTube and some from BBG and the SWEAT app. After the holidays I was at an all-time low in self-confidence, was the least fit I had ever been, and knew I needed a change. I had joined the gym . . . and I started with some cardio classes the gym offered, but again the times didn't always work with my schedule. I had already been paying for the SWEAT app, so I decided to give PWR a whirl. From the first workout, I knew this was the program for me. At first I struggled through the workouts, but I stuck with it, kept chipping away at the program, increased weights each week, and felt my endurance as well as my energy and patience with my kids at home improving.
Danielle on the PWR Workouts
DR: It's very easy to follow as a first-time weightlifter, and has video examples as well as a written description of each movement and how to do it with the correct form. In the past I went to the gym with no plan and no routine. I'd do an hour of cardio, some arms, and then abs and be done - getting little to no results in my shape and muscle tone.
Within a few weeks I noticed I was crushing sets of push-ups and chin-ups - before, I couldn't even attempt this. I was getting stronger and loving the challenge. I started out working out about three days a week, and now I work out six days a week. I do PWR, HIIT (usually treadmill sprints of all different variations), and LISS workouts (stepper, bike rides with my kids, jogs, or incline treadmill walks).
Danielle on Committing to Clean Eating
DR: After the first 10 weeks or so, as I was gaining strength and muscle, I wanted to maximize my results. I was closing in on my Caribbean trip, and knew I could really take this to the next level if I committed myself as much in the kitchen as I did in the gym. I tried on my own for a while, but I just wasn't hitting my goals like I had wanted to.
I joined Cali Bett's challenge called Summer Shred. She provided an entire tutorial on IIFYM (if it fits your macros), meal ideas, grocery ideas, and recommended we track our food the night before. This really is what changed the game for me! I never felt deprived and really felt like this was the education on food I needed to make a lifestyle change. I was learning how to control portions and how to balance out my day with nutrient-dense foods.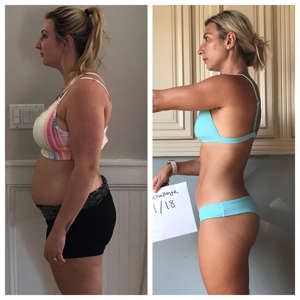 Danielle on Her Nutrition
PS: What does a typical day of eating look like for you?

DR: Typically I start my day with a protein shake after my workouts, I don't go crazy, just protein powder and water.
Breakfast: Scrambled eggs with turkey bacon or sausage and fruit. I'll also make egg-white sandwiches with a 100-calorie English muffin, pepper jack cheese, turkey bacon and spinach. I also have omelets, oatmeal with turkey bacon on the side, or Kodiak protein pancakes
Lunch: A wrap with chicken and veggies. I'll also have a grilled chicken Mediterranean salad with whole-wheat pita, low-sodium cold cuts rolled up, yogurt or cottage cheese and fruit or a side salad. Sometimes I have leftovers.
Dinner: Chicken fajitas in lettuce wraps with rice on the side. I also have grilled lemon pepper chicken, potato and asparagus or a veggie. Another dish I make for dinner is turkey burgers, with avocado, onion, and ketchup on a whole-wheat bun.
Dessert: Two tablespoons of Cocoa Bar in a Jar. It's a low-carb coconut, chocolate, and peanut spread that's high in fat and protein.
PS: Does your diet change on the days you work out?
DR: Not really. The way I eat has become a lifestyle. I typically eat this way every day. The only thing that differs is that I'll skip the protein shake and eat extra protein that day.
PS: Do you count calories? Why or why not?
DR: I don't count calories per se, but I do try to loosely keep track of protein, carbs, and fats. I do this so I can increase muscle and maintain what I've built. I don't beat myself up on days I don't meet my goals. I just start fresh the next day. I try to stick to an 80:20 ratio on how strict I am with tracking. I enjoy tracking and paying attention to what I'm putting in my body because I'm learning so much about food and how it affects my results and energy.
PS: What are some non-scale victories you've experienced?
DR: Confidence, setting a healthy example for my kids, mental clarity, energy, getting my husband back in the gym and bonding with him, friends I've met and friends my kids have met, and feeling better when shopping for new clothes! I had the confidence on my Caribbean trip to walk around in a two-piece bathing suit, which I never thought I'd do again.
POPSUGAR: Do you have any advice or tips for people on their own journey?
DR: I'm still learning so much myself, but try to be patient with yourself and your journey. Results don't happen overnight. If you feel like you've gotten off track from a "cheat meal" or an off day, just start over the next day, don't let it get you down or snowball. If you don't achieve a goal like getting to the gym one day, try not to give up, just adjust the goal. Oftentimes I'd want to get to the gym, but one of my babies would have a fever or not have slept at all. Although I was super disappointed I wouldn't get in my PWR workout that day, I'd do an at-home workout or take the kids for a long walk. You'll never regret a workout. Just get out and move!
An unexpected reason why you might be struggling to lose weight (Buzz60)