This Woman Maintains Her Booty By Ordering Two Meals Instead of One

Cosmopolitan
7/13/2018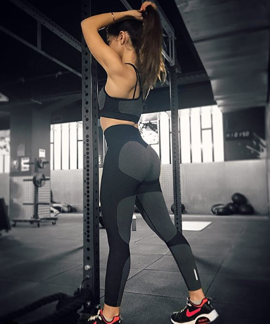 © Instagram The proof of effectiveness is in the pictures.
When Zoe Andersen, 27, (aka @ZoeHappyFit) moved from France to Los Angeles for work, she picked up on very different vibes than the ones she'd encountered at home. "In LA, I saw that most people there were into fitness, whereas it was not such a big thing in Paris," she says. Wanting to acclimate, she decided to commit to a more regimented workout routine and healthier diet.
After all, before the move, she'd only do cardio, and when she did, it was inconsistent. She'd also crash-diet unsuccessfully or eat mindlessly. "I had been eating without knowing anything about macro/micro nutrients, drinking Coke instead of water, and eating tons of [candy, chocolate, and baked goods]," Zoe wrote in an Instagram post that explains how her transformation went down. "Sweet food is my weakness." 
As promised, here's everything about my fitness journey, I hope this answers the questions you may have 🤗 if not, let me know in the comments ⬇️ and I'll answer them 💕 ⛔️ it didn't take me 3 years to get where I am as I started training regularly and eating healthy right after Christmas 2016 but I just don't have many before pics ☹️ 1️⃣ TRAINING ▪️From January to September 2017, I would train 4-5 times a week at the gym only. I didn't know anything so I spent maybe 3-4 months trying all possible exercises ▪️Then from September to December I trained at home only and started training again at the gym around January 2018. ▪️At the moment I'm training glutes 2-3 times a week, doing the gym-based legs & glutes sessions from my guide and adding the home glutes session from my guide as well ▪️I don't train arms specifically, I do one back session and one full body session at home, using light dumbbells, resistance bands and/or just body weight ▪️I train abs specifically once or twice a week ▪️I don't do much cardio at the moment (mostly because I'm being lazy 😅) 2️⃣ NUTRITION ▪️Changing my diet made all the difference, I really can't stress that enough 👈🏽👈🏽👈🏽 ▪️During my whole life until I was 26, I had been eating without knowing ANYTHING about macro/micro nutrients, drinking coke instead of water 😣 and eating tons of 🍭 🍫 🍪 (cause sweet food is my weakness 🤩) ▪️Then I started researching a lot about food and nutrition, how many calories I should get and from which foods, as well as getting good healthy meals together ▪️At the moment, I don't track calories/macros although I did for 6 months last year. I'm trying to eat healthy most of the time and I allow myself daily treats. I'm not too strict with my diet but I certainly don't eat everything I want and I try to cook my own meals as often as possible ⛔️ I won't lie and say it's super easy, there are days when all I want to eat is cookies and chocolate but then it all comes down to this question: what do I want more? ☺️ #beforeandafter #bodytransformation #fitnessjourney #fitfam #fitfrenchies #topbootyworkers #zoehappyfit
In early 2017, she began going to the gym five times a week, experimenting with exercises she found online until, after three or four months, she learned which ones worked, like hip thrusts and deadlifts.
Although she never pursued a formal fitness certification, in May 2017, she began posting instructional workout videos to hold herself accountable.
By the end of the summer, her videos were receiving thousands of views. Then, in September 2017, a home butt-workout video with the caption, "all butt, no thighs" was watched over 100,000 times.
The following month, a core workout was played 120,000 times, and Zoe's account grew exponentially from there.
"I received so much positive feedback from people who followed me that it made me want to dedicate as much time as possible to this account," she says. Around the same time, she left the startup she'd been working for to focus on creating fitness content full time.
Two years after she began her fitness journey, Zoe, who now lives in Dubai, has more than 252,000 Instagram followers.
Zoe works out four to five times a week at home or at the gym for 45 to 90 minutes, depending on whether she tops off strength training with high-intensity interval training for cardio (about twice a week) and ab work like crunch and plank variations (about every other day). She works her butt two to three times a week, relying on moves likes squats and lunges incorporating available equipment.
At the gym, she'll do three to four sets of one move before she moves to the next one, while at home, she sticks with circuits, cycling through different exercises without taking breaks. "This always gets my heart rate up and makes me sweat a lot!" she says. Here's what a typical home butt-workout circuit looks like:
© Instagram/ @ZoeHappyFit / Katie Buckleitner How This Woman Maintains Her Booty Zoe bases her dietary choices on information gleamed from the Internet. "I try to eat healthy most of the time," she says. "I'm not too strict with my diet, but I cook my own meals as much as possible."
Although she isn't a vegan, her meals tend to be plant-based since she naturally began to veer away from meat and chicken about five years ago as a matter of preference. While she eats different foods every day, a typical breakfast might include a mix of rolled oats and Weetabix cereal with soy milk and coffee; for lunch and dinner, she'll have veggies and tofu seasoned with fresh herbs and rice, quinoa, or konjac (aka Shirataki) noodles. Between meals, she snacks on chia pudding, fruit, and banana pancakes she makes using a protein powder base.
She also slips in a healthy treat-like homemade vegan peanut butter chocolate chip cookies-almost every day. "Otherwise I wouldn't be able to stick to it," she says of her approach to eating.
That said, when Zoe feels like pizza, she goes for it with a simple but satiating hack: She orders the pie she's craving to share with her boyfriend. Then, in addition, she orders herself a separate entree, like a salad. "I believe that a healthy diet should be balanced," she says. And while she doesn't obsess over tracking calories or macros, "this is a good way to keep control over my daily calories, and there's always more than enough food."
Although she used to drink alcohol at least once a week, now, she only sips a glass of wine or Champagne-"I'm French!" she jokes-about twice a month.
"There are days when I don't feel like training or when I feel like eating unhealthy food only, and I've learned that it's OK to have those days," she says, adding that the faster she jumps back on the bandwagon, the easier it is to resume the habits that make her feel her best. "I feel, overall, so much better-more energy, less bloating-when I'm eating healthy and training consistently that it really is what motivates me."
She also feels responsible for inspiring her fans. "Everyday I get messages from 13- to 18-year-old girls who tell me they hate their body, that they feel bad about having cellulite and stretch marks," says Zoe, who's proud to be au-natural despite haters who accuse her of taking surgical shortcuts to improve her appearance. "I think it's important not only to tell them, but to actually show that you don't need artificial enhancements to feel confident in your own body and beautiful."
That's not to say it's easy to suss out and stick to a routine that works for you. "It's always hard," she says. "Being consistent and patient is key. Progress takes time."
Follow Elizabeth on Instagram and Twitter.
Gallery: How to get a great core workout during any exercise (Women's Health)