Being Overweight Actually Means You Live Longer, Says Science

YourTango
2/15/2018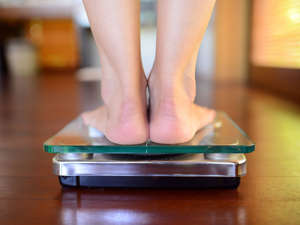 © PhotoTalk/Getty Images Did you know that some extra weight might just give you some extra life?

It's not like you'll live forever, or even year per additional pound, but perhaps doctors might just not be totally truthful when addressing the health risks associated with people whose BMIs — that is, Body Mass Indexes — are between 25 and 30 ("overweight") on the scale.
For those of you who are unaware of BMI — which is not someone who's a habitual dieter, let me tell you — it's the chart that doctors and other healthcare professionals swear by to determine a person's percentage of fat based on their weight and height.
If you've ever seen one of these BMI charts, they're typically littering doctors' offices with user-friendly color-coated squares. Green is normal or "good," and then there's orange for "overweight" or "not so great," and red for "obese" which means "STOP."
Doctors have lectured on and on about the dangers of being "overweight," but as it turns out, it might actually just be better for you to have a little extra weight than to be at a "normal" BMI.
According to Wikipedia, "The generally accepted view is that being overweight causes similar health problems to obesity, but to a lesser degree." But even in papers regarding the dangers of being overweight, like the Journal of the American Medical Association's paper regarding "Excess deaths associated with underweight, overweight, and obesity," they can be cited as stating, "Overweight was not associated with excess mortality."
In fact, the findings rule quite the opposite of the dangers that we've previously believed about carrying a little "extra" weight: People who are overweight actually live longer than people who are in that happy green BMI square.
What does this mean for everyone who's in the "orange" BMI category? Well, you might actually just be at a "normal" weight, while people of normal weight might actually be considered "mildly underweight."
The research supports the idea that people within the "overweight" category are healthier and live longer, but science and the doctors who recognize this issue are still unwilling to make the call and change "overweight" to "normal" for the charts. We're not certain why, but it might be so they can keep condescending you about all the pizza you're eating because let's face it: Those hips didn't get there by avoiding one of the greatest foods of all time.
This also suggests that the dangers of being within that category may be grosslyover-exaggerated since doctors are continually finding out that "overweight" people actually tend to live longer, healthier lives than those within the "normal" weight groups.
Of course, at some point, the more weight you put on, the worse your health will become, because obesity is still damaging to your body — high blood pressure, heart problems, diabetes, skin issues, hormonal problems and many others. But where that point actually begins has been called into question.
So if you go to the clinic and your BMI is a little higher than "acceptable" to your doctor, don't freak out and call off carbs just yet, and certainly don't kiss goodbye alcohol and other hedonistic pleasures, because you could be within a totally (secretly) healthy weight group.
And the plus side? You might actually be able to enjoy every amazing bite of that pizza and live longer than your skinnier friends. Have fun rubbing that in their faces next time you're eating a lovelyMediterranean meal while they choke back a dry salad without any pesky, delicious calorie-filled dressing.
This article was written by Merethe Najjar from YourTango and was legally licensed through the NewsCred publisher network. Please direct all licensing questions to legal@newscred.com.
Gallery: 17 reasons you can't lose weight, according to nutritionists (courtesy Eat This! Not That!)