Grill Brushes Can Pose a Surprising Risk

Consumer Reports
9/2/2016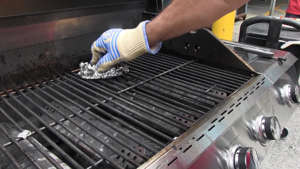 © Provided by Consumer Reports Last year, a 16-year-old girl in Delaware with severe pain in her abdomen was rushed to the emergency room after an X-ray showed a foreign object in her colon.
After learning the girl had recently eaten food cooked on a grill, doctors were able to determine what was causing her discomfort: a wire bristle that had come loose from a grill brush used to get rid of food debris on the grill's cooking surface. She underwent surgery to remove the nearly half-inch-long bristle from the grill brush.
An estimated 1,700 Americans went to an emergency room between 2002 and 2014 after having ingested wire bristles hidden in grilled food, according to a recent study published in the medical journal Otolaryngology-Head and Neck Surgery. One in four of those with grill brush injuries had to be admitted to the hospital.
C.W. David Chang, M.D., a senior author on the grill brush study, believes his study might underestimate the true number of such accidents. That's because the study findings are based only on ER visits. It "does not account for cases presenting at urgent care facilities or other outpatient settings," says Chang, an associate professor of otolaryngology at the University of Missouri School of Medicine.
According to the study, wire bristle injuries from grill brushes have been reported most often to the mouth and throat, but can rarely—as in the case of the Delaware teenager—affect the stomach and intestines when people mistakenly consume a bristle that's hidden in food.
Protect Yourself From Grill Brush Injuries
Consider safer cleaning tools. After every use, depending what type of grill you have (check the owner's manual), instead of a traditional stainless steel or brass wire grill brush, you can clean grill grates that are warm but not hot with a pumice stone or a scouring-pad-shaped wire-mesh grill cleaning tool. For another alternative to grill brushes, you can also brush loose food particles off a warm grate with a wad of crumpled-up aluminum foil.
If you use a stainless steel or brass wire grill brush, take extra precautions. Inspect the brush and the bristles before cooking and make sure your grill brush's bristles are tightly anchored to the brush. If it appears that some areas of the grill brush have fewer bristles than others or the brush is worn or warped, replace the brush. And if you use an electric grill brush, such as the Grillbot, it's suggested that the brushes should be replaced every grilling season or after 100 uses.
Get the right stuff for deep cleaning. When grill grates need an occasional big cleaning, "Treatment with liquid grill cleaners (in spray and foam form) can help loosen debris," Chang says. You might need to pair a liquid cleaner with abrasive pads, which have a coarse texture similar to pumice stones, to get rid of really stubborn food residue. You can also use a wet fine-steel-wool pad for a more thorough cleaning.
Consumer Reports has no relationship with any advertisers on this website. Copyright © 2006-2016 Consumers Union of U.S.