Half of Parents Use Cell Phones While Driving With Kids

Newsweek
7/12/2018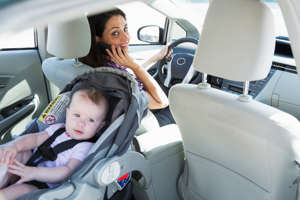 © kali9/Getty Images Distracted driving causes around one in four car crashes in the U.S.
Around half of all parents use their cell phone while driving with their child in the car, according to a study. 
An online survey completed by 760 parents and caregivers in the U.S. across 47 states also showed one in three had read text messages with a child aged between four to 10-years of age onboard in the past three months. A further one in seven checked social media.
Parents who used their cell phones while driving in the presence of children were also more likely to engage in other risky behaviors with or without a child present, such as failing to wear a seat belt or drink-driving. 
The study, published in theJournal of Pediatrics, was the result of a collaboration between researchers at Children's Hospital of Philadelphia (CHOP) and the University of Pennsylvania School of Nursing.
The results come amid what experts regard as a public health crisis of distracted driving. Distracted driving causes around one in four car crashes, the study authors wrote. 
In 2015, the number of fatal car crashes involving children aged 14 or younger spiked by 5 percent, reaching 3,477. An additional 330,000 individuals were injured. Talking on handheld and hands-free devices, texting, phoning or using the internet are among the main causes of distracted driving in parents and caregivers, previous research has shown. 
A 2016 study by the University of Sussex in the U.K. found using a hands-free device while driving is as distracting as handheld technology. 
To paint a more detailed picture of distracted driving among the parents of younger children, the researchers carried out an online survey. The participants were at least 18 years old and were either the parent or routine caregiver of a child aged between four to 10. In order to qualify to take part in the survey, they also had to have driven the oldest child in their care at least six times in the preceding three months.
In the three months prior to completing the survey, over 52 percent of respondents had talked on a hands-free device while driving with a small child and 47 percent on handheld device. Almost 34 percent of parents read text messages, and around 27 percent sent an SMS. Another 14 percent of participants used social media while driving.
The questionnaire also honed in on child safety seats, and found 14.5 percent of parents did not use the equipment. Those who used cell phones while driving were more likely to not use a safety seat.
Dr. Catherine McDonald, author of the study and assistant professor of nursing in the family and community health department at Penn Nursing, said in a statement clinicians should educate parents on driving safely by using seat belts and not using cell phones.
"This type of education is especially pivotal today, as in-vehicle technology is rapidly changing and there is increased—and seemingly constant—reliability on cell phones," she said.
"However, it is also important to note that even parents who did not engage in risky behaviors, such as not wearing a seat belt as a driver or driving under the influence of alcohol, still used their cell phones while driving."
Further research is needed to uncover whether children learn these dangerous behaviors from their parents.
Gallery: 20 ways your cell phone harms your health (Best Life)