The Real First Thanksgiving?

Cricket Media
11/9/2018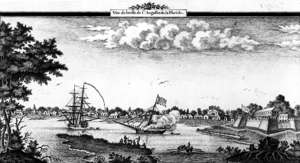 Have you ever had bean stew for Thanksgiving? Because it's likely that hard sea biscuits and a stew made of garbanzo beans, salted pork, and garlic, called "cocido," were on the first Thanksgiving menu. The year was 1565, more than 50 years before the first English settlers set foot in Plymouth.
Pedro Menéndez de Avilés had arrived in Florida in 1565 with soldiers, sailors, and families. The new settlers wanted to give thanks for their safe arrival. So they celebrated with a religious service. Then they shared a meal with the Timucua people. They were a Native American tribe that lived in Northern Florida.
Historians believe that the Spanish settlers prepared the meal using food from their ships. No one knows if the Timucua brought food as well. If they did, it could have included things like corn, squash, and fish. Meat like deer, gopher tortoise, and possibly even turkey could have been on the menu, too.
But was this really the first Thanksgiving? Not everyone agrees. The French had a celebration in a nearby colony the year before. They sang a song of thanksgiving for their safe arrival in the New World, and for a promising beginning. But instead of a feast, they went right to work building their fort when their song and prayers ended. Another claim comes from Texas. On May 29, 1541, Francisco Vázquez de Coronado's party may have held a thanksgiving service. But this day was already the Feast of the Ascension. (This is an annual Catholic holiday that includes a prayer of thanks.) Probably it was the feast day they observed, and not Thanksgiving.
Whatever happened elsewhere, the celebration in St. Augustine is special. It was not only a thanksgiving ceremony and a meal shared with the local people. It also occurred in a settlement that still exists today.