Todd Snyder's Perfect Polo Sweater Will Have You on Your Dickie Greenleaf s*** This Summer

Esquire
6/23/2021
Shop Now $228, toddsnyder.com
Welcome to The Esquire Endorsement. Heavily researched. Thoroughly vetted. These picks are the best way to spend your hard-earned cash.
This summer, I 'm looking to do a lot of extremely Dickie Greenleaf s***. Or perhaps, I should say, do a lot of Tom Ripley s***, as the ultimate goal is to try to emulate Greenleaf as much as possible, sans doing any murders.
The point is, before I set my sights on the Italian coast and pour myself a Mezcal Negroni, I've got to look the part. For me, that starts with the attire. And the attire I 'm starting with is Todd Snyder's lineup of sweater polos. Now, the term sweater polo might be throwing you through a loop, seeing as the whole point of wearing a polo stands in direct contrast to the whole point of wearing a sweater. But hear me out: This enigma of a garment is tailor made for even the most sweltering of summers, especially if yours involves moving from the beach to the pool to the bar and back to the pool. Allow me to explain further.
It's a nice break from what you're used to.
This time of year is no stranger to relying on the trusty polo as a staple in your everyday. Especially as we all prepare for our inevitable returns to the office, throwing on a polo and heading to work feels transitionally simple. The sweater polo is the perfect way to up the ante, and you don't have to sacrifice the ease your favorite polo lends itself to, save for maybe buttoning a few more buttons. (But if that's too much, feel free to leave it undone with an undershirt underneath—or not, if you're beach-adjacent.) Snyder's sweater polo lineup includes a few traditionally designed polos, but it's the full placket jawns that have me most excited, especially for the Greenleaf-ability of them. And of course, they're the perfect piece to pack for that trip you postponed, too. Throw one or two of these in your bag alongside a couple of undershirts and a pair of flat front chinos or linen pants and you'll be summoning another poolside cocktail in style.
You don't have to sweat the whole "sweater" part.
Don't trip up on the word "sweater" here. Your fall and winter wonders made from merino and cashmere do the cool-weather trick, but the cotton-silk blend on Snyder's sweater polo offers a sturdy-yet-breathable alternative to the pique cotton dominance of polos past. The result is a lightweight an airy fabric that feels like it's there, without inducing any sweat-fueled anxiety.
It's a great excuse to re-embrace the ribbed white tank.
This kind of undershirt may have felt off-limits for a while there, probably because of the awful name that's felt inescapable. It's a shame! Not only are they too functional to ignore completely, but also, when paired with a shirt like this one, they can really shine. This shirt calls for an undershirt that just pops up above that top button to say hey, but isn't so overpowering that it takes over the fit and banishes your freshly tanned chest from the show. Better yet, if you want to level up once more, find a necklace that suits you. The sweater polo, the ribbed tank, and the right jewelry is a trio equipped to challenge Durant, Harden, and Irving for intergalactic dominance.
Photography by Timothy Mulcare; prop styling by Miako Katoh
More from Esquire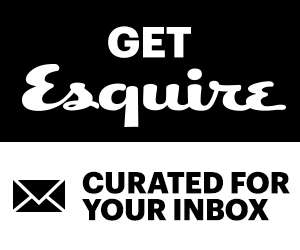 Esquire