Did Melania Trump Steal Her Tuxedo Look From Hope Hicks?

Instyle
11/13/2018
President Trump's actions — and inaction — aren't the only thing causing a stir on his trip to France. According to AOL, first lady Melania Trump opted to wear a Dior tuxedo to a state dinner. That's not a big deal, since the First Lady is allowed to do whatever she wants in the fashion department, but savvy Twitter users called Melania out on what they saw a different kind of fashion faux pas: didn't Hope Hicks already trot out this tux look?
Vanity Fair reports that Hicks wore a tuxedo to a 2017 state dinner hosted by Japanese Prime Minister Shinzo Abe at the Akasaka Palace in Japan. During that particular occasion, Melania opted to wear a red Valentino gown. Hicks was there because, at the time, she was still the communications director of the White House. It wasn't a subtle look, but it certainly stood out in a sea of floor-grazing dresses.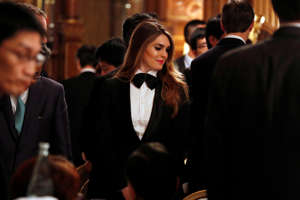 Perhaps Melania was going for the same show-stopping menswear look that Hicks did. Whether or not it was a conscious decision to repeat Hicks's standout sartorial move, it certainly made headlines. Twitter users picked up on the resemblance almost immediately. Melania may have eschewed the oversized bow tie, but the tux was there nonetheless.
Melania's looking like Hope Hicks in that tux. ???? pic.twitter.com/kyNF1No0nP

— Mcb73 (@mellis500) November 11, 2018
Didn't Hope Hicks already do this?

— M&ALL?. (@AllThatToo) November 11, 2018
Melania's tux wasn't the only thing people were talking about. The Trumps decided not to attend a ceremony at the Aisne-Marne American Cemetery because of the rain, although AOL points out that other world leaders made the trek without a problem.