Why this Serena Williams magazine cover is drawing criticism

TODAY
11/13/2018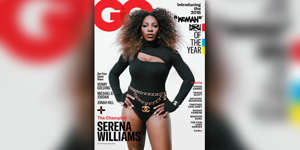 A new GQ magazine cover featuring Serena Williams has caused backlash over body-shaming issues in what GQ is calling a misunderstanding.
The tennis legend was named the magazine's Woman of the Year on Monday, but the cover featuring the word "woman" in quotes has drawn criticism.
Serena Williams, the Woman of the Year for @GQMagazine pic.twitter.com/GgumfOlRUG

— José Morgado (@josemorgado) November 12, 2018
Williams was the Woman of the Year alongside GQ's Men of the Year: Jonah Hill, Michael B. Jordan and Henry Golding.
Putting the word "woman" in quotes struck some as a slight on Williams, who has spoken in the past about being called a man or not feminine enough by body-shamers because of her muscular frame.
They really put "Woman" in quotes in reference to Serena and no one at the table thought it was a bad idea. I'm speechless.

— King Wizard (@ChrisTheHuman_) November 12, 2018
Also, actress Gal Gadot, who was named Woman of the Year in 2017, did not get quotes around the word "woman."
hmm pic.twitter.com/hG4vAtTDTE

— E. Alex Jung (@e_alexjung) November 12, 2018
However, GQ noted in its tweet about the covers that the handwriting on Williams' cover was by Virgil Abloh, the founder of the style brand Off-White and the artistic director of Louis Vuitton's menswear collection.
Abloh often puts everything in quotation marks, which was noted by GQ research manager Mick Rouse.
Because it was handwritten by Virgil Abloh of Off-White, who has styled everything in quotation marks as of late (see Serena's US Open apparel that he designed)

— Mick Rouse (@mickrouse) November 12, 2018
Abloh has designed previous Nike outfits and shoes for Williams that included words like "Logo" and "Serena" on them in quotation marks.
The argument over the cover resurfaced issues that Williams has addressed about critical comments she has heard over the years about her body.
After giving birth last year to daughter Alexis Olympia, she wrote a touching post thanking her own mother and acknowledging the body-shaming she has endured since she was a teen tennis prodigy.
Abloh and Williams had not issued any type of response to the cover controversy as of Tuesday morning. GQ did not immediately respond to request for comment.