Achieve salon-level hair with one versatile tool that reviewers love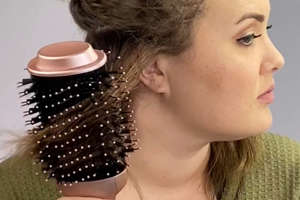 Take your hairstyle to another level, pamper yourself, and speed up your routine with one of the season's best deals — 80 percent off the Adagio Blower Brush. This 2-in-1 styling tool helps you achieve salon-blowout-level silky smooth hair for only $49.99.
Whether you're searching for inspiration or simply need a better hairstyling tool to gain the look you're after, the 4.5-star-rated Adagio Blower Brush is a multipurpose solution. Featuring an air-dry function, this brush dries your hair while straightening it, utilizing tourmaline crystal technology that produces negative ions to retain moisture.
Easily smooth and style your hair without getting arm fatigue, thanks to its lightweight design and six-foot-long, 360-degree swivel cord. You can choose your preferred drying speed with two different settings.
Plus, pre-Christmas delivery is available if you order now, so whether you want to treat yourself or give the gift of simplicity to someone who deserves it, you're good to go. Normally $249, the Adagio Blower Brush is $49.99 for a limited time, a savings of 80% plus who knows how much more on no-longer-needed salon blowouts.
Prices subject to change.