34 Beautiful LGBTQ Wedding Photos That Are Overflowing With Love

HuffPost
6/5/2019
Editor's note: In honor of Pride Month, Microsoft News is celebrating LGBTQI+ inclusion and support for legal protections and equal rights around the world. You can take action by making a donation to The Trevor Project, the world's largest suicide prevention and crisis intervention organization for lesbian, gay, bisexual, transgender, queer, and questioning young people under 25. Learn more about Microsoft's Pride initiative and other ways you can get involved here. 
Here come the happy tears!
The beginning of June marks the start of Pride Month, a time dedicated to honoring the LGBTQ community (though, here at HuffPost, we prefer to keep the celebrations going all year long). 
To that end, we've gathered a whole bunch of LGBTQ wedding photos that beautifully capture the many emotions of tying the knot: the joy, the excitement, the peace of knowing you've found your person and the overwhelming sense of gratitude that you get to spend the rest of your lives together.
Check out some truly powerful wedding moments below: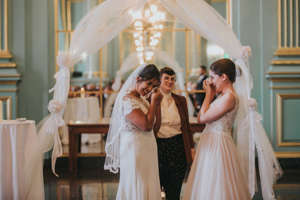 © Katherine Elyse Photography
© De Nueva Photography
This article originally appeared on HuffPost.
Related video: Where in the world is gay marriage legal? (provided by Dailymotion)