A model is being accused of Photoshopping this swimsuit photo on Instagram

INSIDER
5 days ago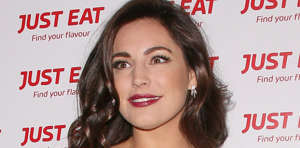 © getty In recent years, the fashion industry has come clean about Photoshopping images to fit an unrealistic standard of beauty.

Celebrities, models, and bloggers are also frequently accused of altering their own photos on social media.
British model Kelly Brook is one of the latest celebrities to be accused of manipulating a photo to enhance her curves.
The 37-year-old model's Instagram followers noticed that something was off about this post she shared on July 16. The photo, which we first saw on Yahoo, has quickly gone viral with over 24,000 likes.
Posing in a black lace swimsuit, she can be seen relaxing by a pool. If you zoom in, however, a few planks on the deck behind her appear to be distorted. The water near the right side of the pool also looks odd, taking a slight but noticeable dip.

"Really wish you would stop photoshopping yourself. It's clear for everyone to see. Shame," one user commented. Another user wrote, "I didn't know pool decks curved liked that!"
A separate commenter blamed the model for "trying to twist reality" and deceive others "when it's not even a photo shoot where it's at least expected."
Related: The 35 Worst Celebrity Photoshop Fails Of All Time
The 35 worst celebrity Photoshop fails of all time
Hitting back, Brook's fans immediately came to her defense.

One Instagrammer wrote, "who cares if she photoshopped her photo!? Utterly ridiculous that people care... Kelly you look fabulous Photoshopped or not!" Another person questioned why followers were upset. "People unfollowing because of a little photoshop?! Bet all your mates do it honeys, get over it!!! 🙄🙄 #Jealousy," they wrote.
Amid the rumors, Yahoo points out that Brook has previously admitted to airbrushing her photos.
"Sometimes if I see a picture and I can make it a bit better then I will, like everyone else does," she said in a 2016 interview with The Sun's Fabulous magazine. "I've been Photoshopped in every picture since I started modelling. I [don't] see any problem with it."
While Brook doesn't think there's anything wrong with Photoshop, other models like Iskra Lawrence have spoken against altering images while some fashion retailers have stopped using the photo editing tool altogether.
Related Video: 18 Unreal Magazine Photoshop Fails [Provided by BuzzFeed]