A Model Shared Her Bathing Suit Photos To 'Offend' Body-Shamers

Refinery29
6/19/2017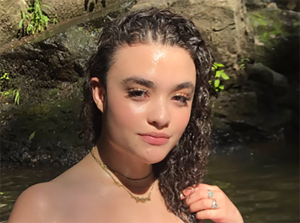 © Twitter/@mynamesdiana We should all be past using the word "fat" as an insult, but not everyone has gotten that memo just yet. Thankfully, model Diana Veras is here to help.
Hello, summer is here and i look fab pic.twitter.com/cLdIlSCLDA

— diana veras (@mynamesdiana) June 11, 2017
When Veras posted photos of herself in a bikini to Twitter over the weekend, amongst the many compliments, she got a reply from someone that simply said, "you're fat."

"And? The f*** lmaoooo," she replied, along with a pretty appropriate GIF.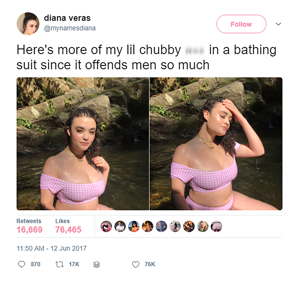 © Twitter/@mynamesdiana Not only that, she tweeted even more photos of herself, writing, "Here's more of my lil chubby a** in a bathing suit since it offends men so much."
June 16, 2017
Since Veras posted her clapback on Twitter, it has received over 74,000 likes and over 16,000 retweets at the time of writing.
She also posted another photo on her Instagram, writing, "U guys r so sweet n supportive nd I'm so thankful that y'all drag any trolls that try 2 make me feel bad ab myself, so thank u. Love u all thanks for the constant support."
Veras, a body-positive activist, told Refinery29 last year that modelling has changed her relationship with her body.
"I did a completely nude shoot — you can see my belly in all its glory and my thighs — and ever since I've been really confident about my body, because what can anyone say to me now?" she said. "I'm forced to look at myself and love my body because everyone's always looking at me. It brings out my femininity the most out of anything I do. I have to indulge and love myself to create an image that everyone else loves and feels."
Related: All the Times Amy Schumer Clapped Back at Body Shamers [Provided by People]

All the Times Amy Schumer Clapped Back at Body Shamers
Related Video: Pregnant meteorologist won't apologize to body-shaming haters [Provided by Buzz60]