A Retailer Is Under Fire For Reportedly Charging A "Fat Tax" On Plus-Size Clothes

Refinery29
5/15/2018
© Provided by Refinery29 Inc. Refinery29

British retailer New Look is facing backlash after shoppers accused it of imposing a "fat tax " on some larger sized clothes, which were 15% more expensive than the same items in smaller sizes.
The issue came to light after a shopper noticed that a pair of green striped trousers in its curve range cost £3 more than the same pair in its main range, at £22.99. (On the US site, the curve pair costs €5 more than the main range pair.) Maria Wassell, a retail supervisor from Kent, said she was "absolutely disgusted" when she spotted the disparity, reported The Sun.
She also drew attention to a size 18 striped slogan T-shirt that cost her £12.99, while the same T-shirt in the store's main collection cost £9.99 — a difference of 30%. Wassell said she felt she was "being discriminated against for being plus size when I'm only slightly bigger than average."
New Look has since said it would be "reviewing the pricing structure of [its] plus size collection" to "ensure pricing differences like these" didn't happen again.
Nevertheless, the retailer has been criticized by many on social media, with the price difference being described as a "fat tax." While some people have argued it's reasonable to charge more for clothes that may require more material, others said that charging more for plus-size clothes seems incongruous at a time when other retailers are supposed to be moving towards more inclusive sizing and more diverse in campaigns.
ASOS, for example, is increasingly known for its plus-size options and use of plus-size models; it also recently introduced a feature to show shoppers what the same clothes look like on different-sized models. Meanwhile others like Monki and Missguided are also making efforts to promote body positivity in their ad campaigns.
The New Look "Fat Tax" is a major misstep at a time where consumers are less forgiving than ever about brands who either exclude groups or misappropriate their cultures. Does anyone know of any other brands who also charge more for larger sizes?

May 15, 2018
I'm sorry what??? How do people think this is fair?! @SkyNews@newlook#FatTax (can we also contemplate how 'fat tax' is even a thing 😒) pic.twitter.com/dTiynqoIBV

— hollie (@holliedummer) May 15, 2018
@Newlook with your 'fat tax' you may encourage anorexia or bulimia or other eating disorders.

— GOSIA0801 (@Gosia0801) May 15, 2018
It is disgusting to me that we freely accept derogatory and stigmatising comments towards people who are overweight. The New Look issue is problematic but some of the comments on this BBC article are completely vile. https://t.co/zNt6R6uFGC

— Catrin Pedder Jones (@Catrin_P_Jones) May 15, 2018
This is not ok, #fitequalityhttps://t.co/uX3p0hkedY

— Luxor+Finch (@luxorandfinch) May 14, 2018
Some shoppers announced they would be boycotting the store.
I'm not surprised to hear @newlook jumped on the 'fat tax' bandwagon, if you're not a size 8 you'd never find anything in store. Anything to get more money, throwing out my New Look card and never going back

— PandaAtPlay (@Pandasaplaying) May 15, 2018
@BBCBreakfast I buy my larger clothes from catalogs that charge the same price for all their sizes boycott newlook problem solved

— Carol Corbett (@CarolCorbet31) May 15, 2018
Plus-size model Nyome Nicholas-Williams said New Look's pricing was discriminatory because "some people don't choose to be the size they are — or height," she told the BBC's Victoria Derbyshire program. "If you have to pay extra money [for clothes] subliminally it feels like you are being told you have to lose weight."
'It makes you feel persecuted for being a little bigger'

Model Nyome Nicholas-Williams on New Look charging more for its plus-size clothing. pic.twitter.com/M897TLnfVd

— Victoria Derbyshire (@VictoriaLIVE) May 15, 2018
Last month, New Look announced it would be closing 60 of its 393 stores and cutting 1,000 jobs within 12 months as part of a restructuring plan. Perhaps part of that restructuring should be reevaluating how it caters to its customers — and how it can provide all women with a pleasant shopping experience, not just those who wear straight sizes.
Related: 30 Places to Find Cheap Plus-Size Clothing Online [Provided by Cheapism]
More from Refinery29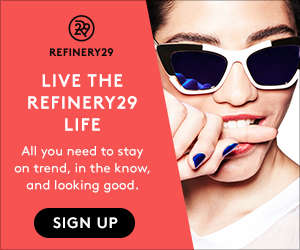 Refinery29