Anna Wintour actually broke royal protocol when she met the Queen

Hello!
2/22/2018
Video provided by DailyMotion
There isn't much that will make Anna Wintour part with her trademark sunglasses – not even the Queen.
Her Majesty caused quite the stir on social media when she made a surprise appearance at London Fashion Week on Tuesday, but it was her front row companion Anna who set tongues wagging.
The US Vogue editor chose not to remove her bug-eyed shades while talking to the 91-year-old monarch, who was seated next to her at Richard Quinn's fashion show.
The pair appeared to be having a great time, chatting and smiling as Anna talked Her Majesty through the show.
But etiquette expert Grant Harrold, who worked in Prince Charles' household, has said that the fashion queen actually broke royal protocol.
"Ms Wintour should know that to wear sunglasses when talking to another person, with no medical reason, is unacceptable," he told the Press Association. "She should have removed them before being in the presence of the Queen, let alone in discussion."
© Copyright ¡HOLA! Hello! Magazine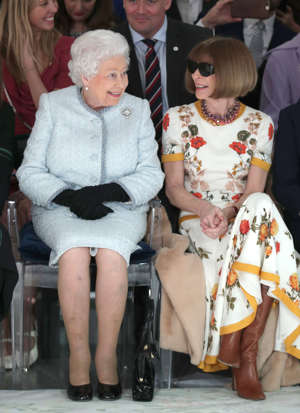 © Yui Mok/PA Wire/PA Images Queen Elizabeth II sits next to Anna Wintour (right) as they view Richard Quinn's runway show before presenting him with the inaugural Queen Elizabeth II Award for British Design as she visits London Fashion Week's BFC Show Space in central London. He added: "Eye contact is important while holding a discussion, and not removing sunglasses is the height of bad manners and a serious breach of royal protocol. If the Queen gave her permission to keep them on then that would be acceptable, however this would be unlikely."
So Anna Wintour is gonna disrespect the Queen like that??? pic.twitter.com/LT8t8ReYIe

— sɔɐɐsı ǝuuʎן-zzoᴚ🇿🇦 (@_Call_Me_Rozz) February 21, 2018
Fans were also quick to share their opinions on Twitter, with one writing: "Dame Anna Wintour, being a fashion editor surely you should know wearing sunglasses indoors is so naff especially being seated next to the Queen."
Another asked: "Why does Anna Wintour feel she has to wear her shades in the front row of a fashion show and sat next to the Queen?"
Several noted: "Even the Queen can't make Anna Wintour part with her sunglasses."
How very rude of Anna Wintour not to remove her sunglasses while talking to The Queen at #LondonFashionWeek She's really not as important as she thinks she is. Dame Anna, not Her Majesty! #pretentiousmoi

— Nicola Jane Swinney (@NicolaJSwinney) February 21, 2018
Others were quick to defend the magazine editor, who has previously said her sunglasses are her "armour".
One fan wrote: "It was not disrespectful for Anna Wintour to wear sunglasses with the Queen. I have eyes that are very sensitive to light myself and sometimes it is necessary for me to wear sunglasses indoors if the lighting is too bright. Would you rather that she was squinting?" 
Love that Anna Wintour is sat front row with THE QUEEN but still frontin with her sunglasses on #boujiee

I need that level of swag in my life uno

— T (@_tylercooper) February 21, 2018
Another tweeted: "Love that Anna Wintour is sat front row with THE QUEEN but still frontin' with her sunglasses."
Related: If You're Looking For Celebrities, They're All at London Fashion Week [Provided by POPSUGAR]