Revealed: Kate Middleton and Meghan Markle's next joint outing

Hello!
5/24/2018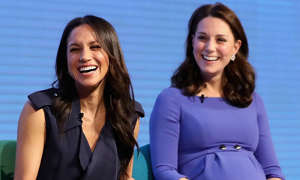 Meghan Markle is settling into life as a Duchess, and she will soon be making her first appearance at one of the most highly anticipated events in the royal calendar. The Duchess of Sussex will team up with her sister-in-law, the Duchess of Cambridge, at this year's Trooping the Colour, which takes place on 9 June. Since 1748, Trooping the Colour has been the official commemoration of the sovereign's birthday, and throughout her reign, the Queen has never missed the occasion, apart from in 1955 when the event was cancelled due to a national rail strike.
Meghan Markle will join Duchess Kate at this year's Trooping the Colour parade
Meghan, 36, will join her husband Prince Harry and other senior members of the royal family in a procession via a horse-drawn carriage from Buckingham Palace, along The Mall to Horse Guards Parade, Whitehall and back again. The royal family then stand on the balcony of Buckingham Palace to greet crowds and watch the spectacular RAF flypast - this will mark Meghan's first appearance on the iconic balcony. Last year's Trooping the Colour was Kate's seventh, she has not missed a single parade since she married Prince William in 2011.
Kate, 36, usually sits in the same carriage as the Duchess of Cornwall and Prince Harry - it remains to be seen how the seating arrangements will be made this year. It's also likely that the younger royals, Prince George and Princess Charlotte, will join the family on the balcony, while Prince Louis remains indoors with the nanny. Meanwhile, it was recently reported that Meghan will be given a helping hand in her first six months as a royal from the Queen's special advisor. According to The Times, Meghan will be taught the ropes by Samantha Cohen, who is Her Majesty's assistant private secretary.
Although Samantha handed in her notice last September, it's thought that she has agreed to stay on as Meghan's advisor for a further six months, so she won't be leaving in the summer as originally planned. Harry and his new bride made their first official appearance as husband and wife on Tuesday - and Meghan looked every inch the royal in a pale pink dress by one of the Duchess of Cambridge's favorite designers, Goat. The duo put on a loving display as they attended a garden party as part of Prince Charles' 70th birthday celebrations.
Related: The Royal Family Flashes Some Spectacular Smiles at the Trooping the Colour Parade 2017 [Provided by Popsugar]
More from Hello!!

Hello!