Rose Leslie Chose A Wedding Gown Worthy Of A Castle

Refinery29
6/24/2018
© Photo: Jane Barlow/PA Images via Getty Images. Refinery29 The long-awaited marriage between Game of Thrones stars Rose Leslie and Kit Harington — which, to some, is the only Royal Wedding worth recognizing — has finally arrived.

Leslie and Harington looked extraordinarily happy. Harington wore a dashing morning suit, and other Game of Thrones stars including Peter Dinklage, Maisie Williams, Sophie Turner, and Emilia Clarke were in attendance. But right now, let's talk about Leslie's wedding dress.
Leslie wore a gorgeous vintage-style ivory lace dress — the designer of which is still unknown — with a full hem, long sleeves, and a thin belt at the waist. She also wore a flower crown-type headband, long veil, and carried a small bouquet of white flowers.
Leslie generally tends to favor vintage styles, sometimes with a slightly modern twist like a sheer fabric or bold color update, so her choice of wedding dress wasn't out of character. It was also a perfect fit for the backdrop of the wedding.
Related slideshow: 15 Crazy, Offbeat Wedding Gowns (Provided by Photo Services)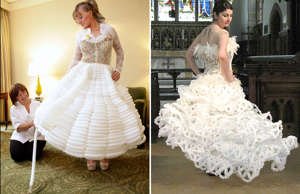 Leslie is Scottish, so the wedding ceremony was held at Rayne church in Aberdeenshire, Scotland (the reception was reportedly at
Wardhill Castle
, which her family oh-so-casually owns) and the wedding dress melded seamlessly into the landscape. It didn't hurt that her dad wore a kilt when he walked her down the aisle, either.
Leslie and Harington met on the set of Game of Thrones in 2011, were first spotted together in 2014, and have been engaged since 2017. Although Leslie hasn't appeared in Game of Thrones since 2014 (she's now on The Good Fight), their wedding was still deeply meaningful for fans of the much-beloved HBO series. According to The Guardian, some diehard Game of Thrones fans gathered outside of the church where the wedding was held, carrying bouquets for the nuptials.
There's no word yet on if they ended up giving the couple their flowers, but at least one thing is clear — as long as they got a good look at Leslie's dress, they should be happy.
Related video: Kit Harington Marries Rose Leslie in Romantic Scotland Ceremony (Provided by People)