Ellen DeGeneres' new Walmart line of T-shirts, jeans and shoes won't cost over $30
USA TODAY
8/15/2018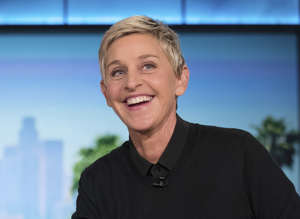 © AP FILE - In this Oct. 13, 2016, file photo, Ellen Degeneres appears during a commercial break at a taping of "The Ellen Show" in Burbank. DeGeneres is known for keeping her comedy on the nice side. But she lets her inner meanie out for "Ellen's Game of Games." That's NBC's new prime-time game show, which begins its regular run Tuesday, Jan. 2, 2018, after a December sneak peek. The hour-long show subjects its contestants to minor-league torments that, it turns out, delight host DeGeneres. (AP Photo/Andrew Harnik, File) Ellen DeGeneres' jeans and sneakers will soon be available at Walmart. The retailer is launching a new fashion line with the talk-show host and comedian.
The denim-based collection, dubbed EV1, will be available starting Sept. 10 on Walmart.com, with certain items also featured in more than 2,300 Walmart stores.
Unlike DeGeneres' more upscale lifestyle brand ED by Ellen, no item among the jeans, shirts, shoes, and accessories of the EV1 line will cost more than $30.
Retailers are increasingly rolling out exclusive or private brands shoppers can't get elsewhere to build loyalty among fickle shoppers who've grown accustomed to fast-changing fashion and the convenience of buying whatever they need from Amazon.
Walmart may also benefit from some celebrity cachet by partnering with DeGeneres, though unlike Target which often offers limited-time clothing collections with star designers such as Victoria Beckham, the DeGeneres line will become a Walmart fixture, incorporating new products each season. 
The EV1 collection marks yet another move to attract a more fashion-conscious customer to Walmart, which became the world's biggest retailer on the draw of its low-priced merchandise. In June, it began selling over 125 Lord & Taylor brands on its website in a partnership with the upscale department store chain. And the previous month, it redesigned its website and launched a new service through its tech incubator Store No. 8 providing personal shoppers to members living in Manhattan and Brooklyn.
"This year, we've been hard at work transforming the fashion experience on Walmart.com,'' Denise Incandela, head of fashion for Walmart eCommerce U.S., said in a blog post. " With the foundation now laid...The launch of EV1 is one of many steps we're taking to establish Walmart.com as a fashion destination.''
Related video: Walmart Launches Four New Clothing Brands [via Fortune]