Say goodbye to your desk

Bloomberg
6/28/2017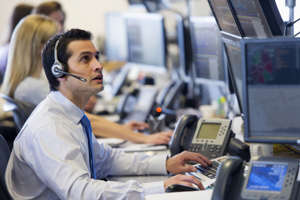 © Tetra Images/Getty Images USA, New York, New York City, Traders at trading desk The desk of the future knows you, perhaps all too well.

It's a sit-or-stand desk, of course, outfitted with sensors that learn your habits and preferences through constant vigilance. When you've been sitting too long, a gentle vibration reminds you to stand. Your chair, also lined with sensors, tells the desk you stood up; the desk, which knows your height, adjusts accordingly. Your desk monitors your keystrokes and mouse clicks, offering you (and your boss) helpful advice on ergonomics—and productivity. Soon enough it knows whether you need a desk at all, a real question at $10,000 per desk per year , or if you can be consigned to the hot-desking pool, where employees are allotted workspace depending on their demands that week, or that day, or that hour.  
In other words, say goodbye to your last shred of dignity in the modern open office workplace. 
"We're collecting a lot of objective data about every employee," said Dr. Mark Benden, the director of ergonomics at Texas A&M University. His standing desk stations are equipped with 120 sensors that measure any move you could make at your desk short of an eye roll at your boss.
"It's kind of Orwellian," Benden said. "You think: Wow, they are tracking all this stuff on me. Does that mean I'm going to get fired?" It's a "normal human response," he added reassuringly .  
Now, Herman Miller Inc., the second-largest office furniture maker, after Steelcase Inc., has planted a ball bearing in this future. The Zeeland, Michigan, company this month launched its Live OS Smart Furnishings line, whose sensors link up with its standing desks and famous Aeron office chairs. The sensors and the software that go along with them sell for $136. The app goes for $60 per desk per year. Furniture not included. 
Live OS offers an optional app in which users enter their height and targets for how much they'd like to stand throughout the day, and which helps any connected desk recognize the user the moment he or she arrives, for instant ergonomic adjustment. The sensors help encourage healthier behaviors. They also measure space utilization—how often you spend at any given workspace and how you use it. 
Sensors have found their way into every nook of the office, as companies push to learn more about their workforce to improve employee health, office design, and productivity.  Gensler, an office design firm, has 1,000 sensors in the lights in its own Manhattan office space. Steelecase has experimented with connected desks and chairs, using sensors to track employee mobility. 
"We've been looking at sensors in the work environment since 1999," said Ryan Anderson, director of commercialization and business development for the internet of things at Herman Miller. "What could sensor-based technology do to create a more interesting experience?" 
Standing desks, for one, are no longer a fringe perk of the trendiest workplaces but are offered by almost half of U.S. companies, according to a new survey of more than 2,000 HR managers by the Society for Human Resource Management. This year, 44 percent of organizations said they offer their employees sit-or-stand desks, up from 13 percent just four years ago. Studies suggest that sitting all day has health risks. Standing-desk enthusiasts report improved productivity. 
Despite the rising demand, however, after the first few weeks most users spend most of their time seated, studies have found. A smart desk can nudge habitual sitters to get up more often. Internal data from Herman Miller found that its connected desk reduced sitting by nearly 40 percent. Benden, the Texas A&M ergonomist, has seen similar results in his research, though it's unclear if the prompts grow less effective over time. 
For an employer, the long-term allure of the artificially intelligent desk isn't just a healthier workforce but access to data on how workers use their space.
"It's kicking out more data than what my team needs," said Dusty Duistermars, a senior managing director at the commercial real estate firm Newmark Knight Frank. Companies can lose track of who sits where or how often employees work from home, Duistermars said. A sensor provides a watchful eye. 
Access to granular and constant data, which helps create workspaces that people actually use, is an office designer's dream, and that's just how Duistermars plans on selling it to clients. "A part of it is looking at ways to save money. This product will provide the data that will see if that is actually possible," he said.
Employees will love some of these changes, like better conference room access and well-positioned meeting spaces. But along with them comes a loss of personal space, an amenity already in short supply in the open office. If the sensors show you're at your desk for only three hours a day, congratulations, you're up and about, meeting with colleagues, getting things done. So why do you need that desk?
Hot-desking, the sharing of desk spaces, has already crept into the edgiest office spaces, with lockers for personal items—if you're lucky. Of 400 companies surveyed, two-thirds plan to adopt a shared-desk "strategy" by 2020, a CBRE report found. Herman Miller's Live OS and systems like it could shift more offices to that model.  
Data collection on this order means constantly being under the microscope. Legally, U.S. businesses can track employees everywhere but the bathroom. As sensors have taken up residence in office walls, ID badges, lighting fixtures, HVAC systems, and now desks, workers have become accustomed to the scrutiny. Most employers say they do it in the name of efficiency. 
"We're not tracking people," said Herman Miller's Anderson. "We're measuring the effectiveness of the space and helping optimize the use of real estate."