13 dying retailers taking the fashion industry with them

Business Insider
4/6/2017
1. Payless
© Jodi Xu Klein and Lauren Coleman-Lochner    Stores closing: 1,000
The discount shoe retailer said Tuesday that it had filed for Chapter 11 bankruptcy protection and would immediately close 400 stores in the U.S. and Puerto Rico. Additional store closures are likely.
Payless has been in talks with its lenders for months over a restructuring plan that at one point included closing as many as 1,000 stores , or a quarter of the company's locations.  Currently, Payless has about 4,400 locations worldwide, including 3,600 in North America.
The Chapter 11 filing reports less than $1 billion in assets and $10 billion in liabilities.  
2. The Limited
© Provided by Business InsiderStores closing: 250

The women's clothing retailer shut down all 250 of its stores in early January. 
"We're sad to say that all The Limited stores nationwide have officially closed their doors," the company said in an online statement. "But this isn't goodbye. The styles you love are still available online — we're just a quick click away 24 hours a day." 
3. Wet Seal
© Provided by Business InsiderStores closing: 171

The struggling teen retailer is closing all of its stores, the company announced in late January. 
The closures come two years after Wet Seal closed 338 of its then-511 stores in January 2015, shortly before the company filed for bankruptcy protection. At the time, Wall Street analysts said that falling foot traffic at shopping malls played a major role in Wet Seal's death spiral.
4. BCBG
Stores Closing: 120
Currently, BCBG has 570 locations worldwide, and 175 in the U.S. Most of the 120 stores being shuttered are in the U.S. 
In January, BCBG told Bloomberg that it would shift its focus away from brick-and-mortar stores, and instead double down on e-commerce and selling the BCBG brand through other retailers. 
In February, Women's Wear Daily reported that the retailer is considering filing for bankruptcy, with a source telling the publication BCBG is "shopping for bankruptcy attorneys."
5. Bebe
© Provided by Business InsiderStores closing: 170
In March, Bloomberg reported Bebe planned to close all 170 stores, in an effort to focus on online sales. The retailer previously announced in early February that it planned to shutter up to 25 locations in 2017.
Bebe's sales have been slumping in recent years. In the most recent quarter, the company reported that same-store sales dropped 10.5% compared to the same period a year ago, in which sales declined 2.5%.
6. Guess
© Provided by Business InsiderStore closures: 60
The retail announced in mid-March that it planned to close 60 stores by the end of the year. Guess has already closed 62 stores in the last two years, including 10 in the last quarter alone. 
"I am laser-focused on improving the profitability of the Americas business," CEO Victor Herrero said on a call with analysts in March. 
7. Abercrombie & Fitch
© Provided by Business InsiderStores closing: 60
The teen retailer announced in March that it was closing another 60 stores. Abercrombie's store count has dropped 20% since 2013, with the latest wave of closures bringing the brand's total number of stores down to roughly 674. 
"The competitive environment resulted in more promotional activity and a lower gross margin rate than planned," Abercrombie CEO Fran Horowitz said in a statement. "The Abercrombie brand renewal continues, although it is a work in progress."
8. American Apparel

Stores closing: 110
The future of American Apparel's stores hasn't been formally announced following the retailer's acquisition by Gildan Activewear Inc.
Gildan did not acquire the chain's 110 locations when it bought the American Apparel brand. If American Apparel doesn't find a buyer, these stores will likely be shut down. 
While rumors circulated that the brand would be shuttering all locations immediately, the retailer has denied these reports. Stores will not close for at least a few more months due to a 100-day license with Gildan, American Apparel spokeswoman Arielle Patrick told Business Insider in mid-January.
American Apparel declined to comment on what would happen after that point.  
9. Sears
© Provided by Business InsiderStores closing: 42
Sears plans to shutter 42 stores by April.
Sears' downward spiral has analysts speculating that the company will file for bankruptcy, and some of the brand's suppliers are already cutting back on shipments. 
10. Kmart
Stores closing: 108
Parent company Sears Holdings Corp. is shuttering 108 Kmart stores by April. 
11. Macy's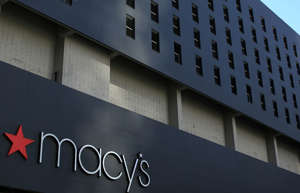 © MIKE BLAKE, Reuters The Macy's logo is pictured on the side of a building in down town Los Angeles, California, U.S., March 6, 2017. Stores closing: 68
Macy's is closing 68 stores and laying off nearly 4,000 employees beginning in early 2017. Ultimately, the retailer plans to shut down about 100 stores, or 15% of its store base, over the next couple of years.
The retailer has struggled to keep up with the rise of e-commerce. In early February, the Wall Street Journal reported that Macy's had received a takeover offer from Canadian retailer Hudson's Bay.
12. Crocs
© Provided by Business InsiderStores closing: 158
The retailer plans to go from 558 stores to roughly 400 locations by the end of 2018, Crocs announced in March. 
"Over the past several months, as we continued to focus on removing unnecessary complexity from our business, we conducted a comprehensive review of our cost structure," Crocs president Andrew Rees said during a call with analysts. 
13. J.C. Penney
© Provided by Business Insider jcpenney shoppers Stores closing: 138

In March, JCPenney released the list of the 138 locations — about 14% of its stores — that would shut down in the next couple months. Most of the stores will begin liquidation sales in mid-April and close their doors for good by June. 
More on MSN Money
The most valuable public company in every state
50 products that are still made in America