Avenatti Found Guilty in Extortion Case

The Wall Street Journal.
2/15/2020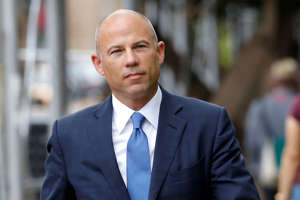 Michael Avenatti, who rose to national fame as the brash, camera-ready lawyer for adult-film actress Stormy Daniels, was found guilty Friday on charges that he tried to extort more than $20 million from Nike, Inc. by threatening to expose damaging information about the company.
The verdict marks a victory for the Manhattan U.S. attorney's office, which brought the case last year following a swift investigation. The federal prosecutors were aided¾ by Nike's lawyers, who recorded their conversations with Mr. Avenatti.
The jury convicted Mr. Avenatti on all three counts he faced: extortion, transmission of interstate communications with intent to extort, and wire fraud.
The wire-fraud charge stemmed from Mr. Avenatti's unauthorized use of information given to him by a client, an amateur basketball coach who served as a critical government witness at trial.
Mr. Avenatti threatened to expose what he said was corruption by Nike in connection with high-school basketball players if the sports-apparel company didn't pay his client and hire him to conduct an internal investigation.
Mr. Avenatti's lawyers argued at trial that he was using tough negotiating tactics with Nike, at his client's request, and wasn't trying to extort the company.
Mr. Avenatti still faces another federal indictment in California with dozens of charges related to his business practices, taxes and personal finances. 
Get news and analysis on politics, policy, national security and more, delivered right to your inbox
In a third set of federal charges, prosecutors in Manhattan have charged Mr. Avenatti with embezzling money meant for Ms. Daniels.
Mr. Avenatti has pleaded not guilty in those cases, which are set for two separate trials later this year.
Mr. Avenatti has been in federal custody at a Manhattan detention center since last month, following his arrest in California on allegations that he violated his pretrial release there.
"While the defendant may have tried to hide behind legal terms and a suit and tie, the jury clearly saw the defendant's scheme for what it was—an old fashioned shakedown," Manhattan U.S. Attorney Geoffrey S. Berman said in a statement.
"The verdict speaks volumes," Nike said through a spokesman.
Lawyers for Mr. Avenatti said in an emailed statement that Mr. Avenatti planned to pursue an appeal. "Michael Avenatti has been a fighter his entire life," they said. "The inhumane conditions of solitary confinement he has endured over the past month would break anyone but he remains strong. We are all deeply disappointed by the jury's verdict."
The case grew out of a series of meetings in March 2019 between Mr. Avenatti, Los Angeles attorney Mark Geragos and Nike representatives, including Nike's outside counsel from law firm Boies Schiller Flexner LLP.
According to evidence presented at trial, Mr. Avenatti told those people his client—who wasn't present at any of the meetings—had evidence that Nike employees had funneled secret payments to the families of top high-school basketball players, in apparent violation of NCAA rules. At the time, Nike had been cooperating with Manhattan federal prosecutors in an investigation into corruption in college basketball. 
Related video: Cutting through the controversy behind Nike's Vaporfly running shoe
After Mr. Avenatti threatened to expose the alleged payments in a news conference, Nike's lawyers contacted the Manhattan U.S. attorney's office, setting off a fast-paced criminal investigation in which Boies Schiller lawyers recorded conversations with Mr. Avenatti, recordings that were played at trial.
"That is what extortion sounds like," Assistant U.S. Attorney Matthew D. Podolsky said in closing arguments Tuesday. Mr. Podolsky said Mr. Avenatti took what his client told him and, without his client's knowledge, "used it to shake down Nike, to line his own pockets, to try to pay off his debts. And it was caught on tape."
Mr. Avenatti's lawyers pointed the jury to evidence that the coach had authorized Mr. Avenatti to be tough in discussions with Nike.
"He was going to seek justice the way Avenatti knows how to do it," attorney Scott Srebnick said in his summation.
The extortion and wire-fraud counts each carry a maximum 20-year prison sentence; the interstate communications charge has a maximum two-year sentence. Mr. Avenatti is set to be sentenced in this case on June 17.
Federal convictions often result in automatic disbarment for lawyers. Last year, the State Bar of California began proceedings to block Mr. Avenatti from practicing law there, citing allegations of misconduct in civil and criminal cases against him.
Corrections & Amplifications Closing arguments in Mr. Avenatti's trial were on Tuesday, Feb. 11. An earlier version of this article incorrectly stated they were on Wednesday. (Feb. 14, 2020)
Write to Rebecca Davis O'Brien at Rebecca.OBrien@wsj.com