Banks thought they had a win with guns. Now they've got a big GOP headache

Bloomberg
5/5/2018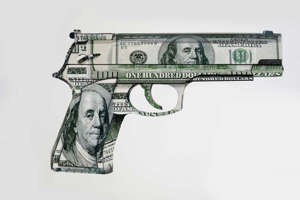 How Citigroup and Bank of America shot themselves in the foot with D.C. Republicans.
On April 24 a handful of Citigroup Inc. executives went to the Securities and Exchange Commission for what they thought would be a routine meeting about a boring but key part of their business: derivatives regulation. Instead, they got a stern lecture on guns. A month earlier, in the aftermath of the school shooting in Parkland, Fla., Citigroup had announced it would curtail some of the business it does with companies that sell firearms. That didn't go over well with Michael Piwowar, one of three Republican appointees on the five-member SEC.

Shortly after the Citigroup executives arrived at his office, Piwowar, according to people familiar with the matter, began castigating them for straying into social policy. Glowering and speaking emphatically, he reminded them that Citigroup was given billions in government bailout money after the financial crisis. In what some of the executives took as a thinly veiled threat, Piwowar said he knew Citigroup wanted the SEC to ease regulations on derivatives and proprietary trading, and suggested they might have trouble finding the votes on the Republican-led commission.
The episode illustrates how fraught the gun issue has become for companies in Washington. Bank of America Corp. has faced similar blowback from GOP lawmakers for announcing it would no longer provide financing to companies that manufacture military-style guns for civilians. What started as an attempt by the two banks to respond to recent mass shootings, and maybe earn some goodwill from the public, has instead turned into a political headache.
Senate Banking Committee Chairman Mike Crapo, who worked with Piwowar when the commissioner was a Senate staffer, wrote letters to the chief executive officers of Citi and Bank of America, scolding them for using their "market power to manage social policy." And a group of House members asked the General Services Administration to cancel a contract with Citi. "This flagrant disregard for American citizens and their God-given Second Amendment rights cannot be tolerated," Representative Todd Rokita, a Republican from Indiana who helped lead the effort, said in a statement.
While both banks have big lobbying operations in D.C., they appear to have been taken aback by the extent of the backlash. "The gun issue has become the third rail of American politics, and this reaction is not surprising," says Sam Geduldig, a Republican financial-services lobbyist at CGCN Group in Washington. He points out that the chairmen of the two committees that oversee banks in the Senate and House, Idaho's Crapo and Jeb Hensarling of Texas, are from strong pro-gun states.
Citigroup's policy directs clients, mainly in the retail industry, to restrict the sale of firearms to customers under 21 and to those who haven't passed a background check. It also bars the sale of bump stocks and high-capacity magazines. The policy doesn't apply to customers who use the bank's credit and debit cards. "I know that some will find our policy too strict while others will find it too lenient," Citi CEO Michael Corbat wrote to employees on March 22. "We don't have the perfect solution to supporting our Constitution while keeping our children and grandchildren safe." Still, he added, "we shouldn't let that stop us from doing our part."
During a Banking Committee hearing on April 12 with the acting head of the Consumer Financial Protection Bureau, Mick Mulvaney, Republican Senator John Kennedy of Louisiana said he planned to file a complaint with the watchdog agency against the two banks for their "offensive" conduct. "Our friends at Citigroup and Bank of America apparently aren't busy enough with their banking business," he said. "They have decided that they are going to set policy for the Second Amendment." (Mulvaney said he didn't think the bureau should get involved in telling companies what to do.)
For all the furor these policies have kicked up in D.C., it's unclear how much damage they've done, if any, to firearms manufacturers, or for that matter, the banks' own bottom lines. A Bloomberg analysis of loans and bonds issued to major gunmakers found Citigroup was not a bank frequently used by the industry. Since 2012, Bank of America has arranged $273.6 million in debt for major gunmakers, putting it fourth behind Wells Fargo, Morgan Stanley, and TD Securities, none of which publicly announced changes to their banking policies.
As for SEC Commissioner Piwowar, some observers found his comments troubling because they were issued, in private, by a regulator with power over the bank. Piwowar declined to comment. There's debate over whether he crossed any ethical lines, though some securities lawyers say his actions were at the least inappropriate.
"This is outrageous and, I think, beyond his authority," says David Lipton, director of the securities regulation program at Catholic University's law school. SEC commissioners "have an obligation to the market and to protect investors. They don't have an obligation to their politics." However, G. Calvin Mackenzie, an emeritus professor at Colby College and a government ethics expert, says that as a Senate-confirmed regulator, Piwowar can make policy decisions any way he wants. "I'd have been a little surprised if I were with the bank there," he says. "But that's politics. That's the game we're playing now."
Related video: States that profit the most from guns (provided by GoBankingRates)