Cramer says departure of Penney's CEO means company is doomed

CNBC
5/22/2018
Marvin Ellison's exit as CEO of J.C. Penney means the struggling department store chain can't be turned around, CNBC's Jim Cramer said Tuesday.

J.C. Penney shares plunged Tuesday after Lowe's announced it is naming Ellison president and CEO, effective July 2. J.C. Penney, which has struggled to compete within the quickly changing retail landscape, told CNBC that it was informed by Ellison a couple days ago of the move.
"If there was any chance [of a turnaround], I think you would stay," Cramer said on "Squawk on the Street." "Because it would obviously be such a kick in the face of J.C. Penney to move over."
Cramer, who also said Ellison's move is "fabulous" for Lowe's, added he would not say that Marvin Ellison "failed" the department store chain because "who would not fail there."
J.C. Penney did not immediately respond to CNBC's request for comment about Cramer's remarks.
Shares of J.C. Penney have struggled to rally despite a widespread comeback in the retail sector. The department store chain, with a market cap of about $760 million, has seen its shares fall more than 45 percent over the past year.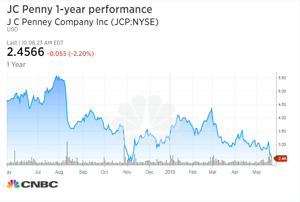 The "Mad Money" host has previously wondered how brick-and-mortar chains such as J.C. Penny and Macy's could sufficiently compete with companies like e-commerce giant Amazon. Cramer describes Amazon as the Death Star, the evil Empire's battle station in the "Star Wars" franchise with the power to destroy entire planets.
On Tuesday, Cramer called J.C. Penney "very problematic" and said it possibly had "the worst" quarterly numbers other than Sears. The company reported sales Thursday that missed analysts' expectations and cut its full-year earnings outlook.
"It's a great trade for [Ellison]," Cramer said, adding he doesn't see how J.C. Penney will be able to find a good successor.