Dreamliner seat shortage prompts Boeing to park jets in desert

Bloomberg
3/27/2015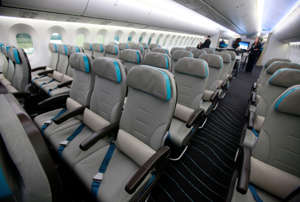 Boeing is temporarily storing two new 787 Dreamliner jets in California's Mojave Desert, usually a resting place for decrepit aircraft, as it works through a seat shortage that has caused production hiccups since late 2014.
The measure is intended to help Chicago-based Boeing speed Dreamliner deliveries to American Airlines and resolve snarls caused by late-arriving premium seats from France's Zodiac Aerospace. Seatmakers are struggling to keep pace with surging airline demand for luxury berths as costly as Ferraris.
For Boeing and Airbus Group NV, on-time lie-flat seats are crucial because they can require extensive rewiring, ductwork changes and reinforced cabin floors. When deliveries run late, planemakers may be forced to remove fittings such as galleys and lavatories so the berths can be installed, said Gary Weissel, managing officer with Tronos Aviation Consulting Inc.
"There is frustration," Weissel said in a telephone interview from Atlanta. As planemakers boost output to work through a record order backlog and airlines refurbish older jets, "you have this huge volume of seats required."
Boeing's parked 787s were to have been the third and fourth for American Airlines Group Inc., said Matt Miller, a spokesman for the carrier. Since the jets are still awaiting the Zodiac seats, they will need the same laborious retrofits that delayed the handover of American's first two 787s to early 2015 from late last year.
'Really Disappointing'
"It's slow, it's a real problem," American Chief Executive Officer Doug Parker said last week in Washington after a U.S. Chamber of Commerce speech. "We can all complain about seat manufacturers, but we can't fly the airplanes without proper seats. It is really disappointing."
One of the jets is stored in arid Victorville, California, and "the other will be down there shortly," Doug Alder, a Boeing spokesman, said in a phone interview.
Airlines and lessors often use storage yards in Arizona and California's Mojave Desert to park older planes in reserve or for parts, because the low humidity lessens corrosion.
Boeing also sent 787s to Victorville temporarily for flight tests and repairs while resolving production setbacks that contributed to a three-year delay in the plane's 2011 commercial debut, said Uresh Sheth, who tracks Dreamliner output on his AllThings787 blog. The jets being stored for American left the factory on Nov. 24 and Dec. 23, Sheth said Friday in an e-mail.
To lessen the disruption for Fort Worth, Texas-based American, Boeing decided to set aside the mostly completed jets for now and focus on 787s later in the production schedule that could be delivered without major rework, Miller said.
American's Planes
Boeing is flight-testing a 787 for American that Miller expects to be delivered within weeks, and loading premium berths onto another Dreamliner for the carrier as the jet is assembled in the planemaker's wide-body factory in Everett, Washington.
The two stored jets will eventually be flown back to the Seattle-area plant when ample seats arrive, Miller said. He said American doesn't expect the juggled deliveries to affect the 787's planned early June debut on overseas routes. American, the world's largest airline, is taking 42 Dreamliners for its wide- body fleet.
First-class cabin seats typically cost $150,000 to $300,000, Weissel said, for their blend of custom cabinets, in- flight entertainment, massage motors and cushioning to protect passengers in a crash. "These are incredibly complicated machines," he said.
Planemaker Headaches
The lingering seat shortages are creating headaches for Boeing and Airbus as the planemakers work to increase production of the 787 and Airbus's A350. Those jetliners, the first to incorporate carbon composites in their hulls, are popular with carriers for their fuel-savings and with passengers for higher cabin humidity that lessens the effects of jet lag.
The Dreamliner has been the most affected by delays at Plaisir, France-based Zodiac as seat orders overwhelmed the company's engineering resources, CEO Olivier Zarrouati said during a March 19 earnings call.
"The best sell is obviously and most significantly impacted -- the 787, for instance," Zarrouati said. "And basically delays follow a similar pattern to our sales pattern."
Boeing has sent about 150 employees to Zodiac's plants to help resolve seat manufacturing and delivery issues, said Howard Rubel, a New York-based analyst with Jefferies LLC. He described the setbacks as "temporary" and expects fixes to be completed by May.
"We have a plan with Zodiac and we're currently working together on improving that," Pat Shanahan, Boeing's senior vice president for airplane programs, said by e-mail. "Between the Boeing personnel on site and Zodiac's own team, progress is being made."