Elon Musk's Boring Co. is coming to Las Vegas

Bloomberg
5/22/2019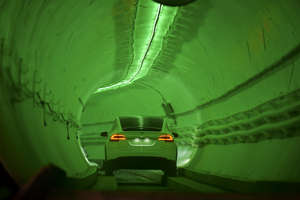 Boring Co. has won its first commercial transportation contract, a $48.7 million mile-long project to shuttle visitors around the Las Vegas convention center.
It is not quite the San Francisco-to-Los Angeles scale imagined when entrepreneur Elon Musk set out his vision for the company, but the contract gives it an important mark of legitimacy. And going forward, Boring Co. is offering up suggestions for how the system could one day extend to other parts of Las Vegas, and perhaps even Los Angeles.
"Everybody's going to learn whether they can complete a project," said Juan Matute, deputy director of the Institute for Transportation Studies at the University of California, Los Angeles. "It provides a model for other agencies to look at," and possibly replicate down the line.
The board of the Las Vegas Convention and Visitors Authority approved the contract Wednesday afternoon in a vote of 13 to 1. Las Vegas's Mayor Carolyn Goodman was the lone dissenting voice, opposing giving the contract to Boring Co. because of its lack of experience.
The company will build a pair of tunnels to connect the eastern edge of the convention complex's South Hall to the western edge of a new building, a route of just short of a mile. An intermediate stop will serve the central and north exhibit halls. Boring Co. will also build a pedestrian tunnel between the South Hall and a nearby parking lot where it will locate a station.
To move passengers around, Boring Co. will use the basic framework of self-driving Tesla Model 3 and Model X vehicles, modified to hold up to 16 passengers. Musk, Boring Co.'s founder, also runs Tesla Inc.
Boring Co. will be paid as it achieves certain milestones, starting with 2.65% of its fee on the official start of the project, a cumulative 8.4% when it completes excavation of its first station, a cumulative 15.75% after digging the first 100 feet of the first tunnel, and so on. The final step toward getting 100% of the fee is proving capacity of an average 4,400 passengers per hour.
The agreement calls for construction to start in September, after several months of regulatory reviews and design work. The finished project should open to the public in December 2020, in time for the giant annual Consumer Electronics Show held in the convention center each January.
The convention authority has built some protections for itself into the contract. Those include setting up performance and payment bonds, and negotiating a $1.6 million fee, on top of a refund of all payments made to the Boring Co., if the company fails to complete the project. And if the system can't provide full capacity during trade shows, Boring Co. will have to pay $300,000 per event, for up to 15 events.
Boring Co. has built a test tunnel in Hawthorne, California, but another proposed project in Los Angeles was scuttled after opposition from neighborhood groups. In Chicago, a proposed project's future is in doubt due to the retirement of its biggest supporter, former Mayor Rahm Emanuel. And a project connecting Washington to Baltimore is currently waylaid in the environmental-review process.
The total value of the contract includes $44.25 million in construction fees to Boring Co., and a $4.425 million contingency for use if the scope of the work changes unexpectedly. The Las Vegas tunnel would be paid for largely with money from the convention authority's general fund, which itself is funded mostly by hotel room taxes in Las Vegas. The $935 million convention center expansion comes from a separate allocation approved by Nevada legislators. Rides on the future Boring Co. service would be free to convention-goers.
Related video: Elon Musk is a genius, but he's not a stock, Jim Cramer says (provided by The Street)